business
Key Themes to Watch for in Putin's Annual Address to Russians
By and
Syria and terrorism fight may loom large in Putin's speech

Turkey clash may help ease tensions with U.S., analyst says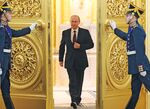 When Vladimir Putin makes his annual speech to parliament on Thursday, observers inside and outside Russia will watch for any softening of presidential rhetoric against the U.S. and Europe as part of calls for a global fight against terrorism.
Putin used last year's address to attack the U.S. and the European Union for imposing sanctions after Russia annexed Crimea and backed separatists in eastern Ukraine. Foreign policy may be center stage once again. International attention is now focused on combating Islamic State, which claimed responsibility for attacks in Paris that killed 130 people last month and the downing of a Russian tourist jet in Egypt with 224 people on board in October. Here are some of the topics that may generate the most attention.
Syrian Operation
One topic Putin won't be able to avoid is Syria, where Russia's bombing campaign gave him a central role. There are plenty of issues to address, from the clash with Turkey over the downed Russian warplane to the international criticism over his support for Syrian President Bashar al-Assad and the loss of Russian lives to terrorism and the rebels alike.
In his speech, "Putin will stress that Russia together with the rest of the world is fighting Islamic State," said Igor Bunin, head of the Moscow-based Center for Political Technologies. "Putin's foreign policy is popular so he will focus on that."
Turkey Tensions

Russia has continued to pile pressure on Turkey with trade sanctions and an ever-intensifying drumbeat of rhetoric against its leadership. The Defense Ministry in Moscow directly accused President Recep Tayyip Erdogan and his family on Wednesday of being involved in Islamic State's illegal oil trade. Putin hasn't given an inch so far, refusing to take Erdogan's calls and snubbing him at the Paris climate summit.
"The conflict with Turkey is a useful development that offers Putin a chance to pick a new enemy and ease the standoff with the West," said Nikolai Petrov, a professor at Moscow's Higher School of Economics. "He can say that Russia demonstrated that it stood firm and now we are switching to a more constructive relationship because of the fight against terror."
A poll published Wednesday by the independent Levada Center showed a slide in the proportion of Russians holding a negative view of the U.S., to 70 percent from 81 percent a year ago. Two-thirds of those questioned wanted to mend ties with the U.S. and Europe.
Domestic Terror Threat
The downing of the tourist plane in Egypt served as a reminder of the terror risk facing Russians. It's a familiar topic for Putin, who's led the fight against Islamist separatists in Chechnya and has had to face the nation after domestic attacks.
"The question of increasing security will be part of the speech because of the risk of terrorism," and Putin will seek to reassure Russians that measures are in place to protect them from attacks, said Alexei Chesnakov, a former Kremlin official who now runs the Center for Current Politics in Moscow.
Sanctions, Recession
The economy is also difficult to sidestep, with Russia heading for its longest recession in decades. Putin may try to focus on the positives and hail a nascent recovery -- like he did six months ago at in a highly anticipated speech at an economic conference, when he opted against announcing big policy changes.
"Putin will say that the worst of the crisis has been overcome, the economy is surviving and is already adapting," Sergei Markov, a Kremlin political consultant, said. "Putin won't lie, because the situation is still very difficult, but he will hint about a future return to growth."
While Putin will pledge budget discipline to ensure stability, he'll guarantee social payments and "pensioners can sleep easy," Markov said. The rise in international tensions mean budget spending on the military will also be secure, he said.
The Russian leader is also likely to promise to enact long-delayed measures to improve the business climate and diversify the economy away from dependence on oil and gas. "He will want to provide a real signal that his government is willing to carry out some economic reforms," said Petrov.
Before it's here, it's on the Bloomberg Terminal.
LEARN MORE