Indonesia Orders Airbus A320 Inspections After Crash Report
by and
Planes to be grounded if any repeat faults, ministry says

Investigator says Airbus recommended improving component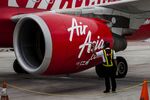 Indonesia will inspect all Airbus Group SE A320 planes in the country and ground any with repeated faults, on the recommendation of investigators into the crash of an AirAsia Bhd. flight last December.
A report released Tuesday cited a crack in the soldering of an electronic component on an A320 rudder, as well as pilot errors in responding to the issue, as reasons for the Dec. 28 crash of AirAsia Flight 8501. The head of the crash investigation told Bloomberg Thursday that in recent months Airbus has researched the component in question and recommended improvements.
The AirAsia crash, which killed 162 people en route to Singapore from Surabaya, Indonesia, drew further attention to air safety across Asia following the disappearance of Malaysia Airlines Flight 370 earlier last year. There have been at least three other deadly accidents in Indonesia this year. 
"Every component in the A320 will be inspected," Mohammad Alwi, director of airworthiness and plane operations at the transport ministry, said at a press conference Thursday. Particular attention will be paid to the rudder travel limiter unit, which the crash report showed had a history of faults dating to the 1990s.
Making Improvements
Inspections of all 75 A320s in the country, used by major carriers including Air Asia and PT Garuda Indonesia, will start immediately and continue until next June, said Suprasetyo, director general of air transport at the transport ministry.
Airbus will continue to provide technical assistance to the Indonesian authorities, the company said in an e-mail after the announcement. The transport ministry will also require pilots to undergo "upset recovery" training every six months, from 12 months previously.
Nurcahyo Utomo, who led the crash investigation, said Airbus has recommended improvements to the component that failed on Flight 8501, but the problem is not serious enough to ground the A320 fleet.
"What Airbus did is look again at what can be done to improve the component and the system," Utomo said in an interview on Thursday. "Later all the A320s must follow, gradually they will all get the improvement."
In an e-mailed response, Airbus said it had taken note of the details in the crash investigation report. The report did not recommend any changes to the rudder travel limiter unit, the company said.
"We do foresee both legal and financial impact to Airbus with respect to AirAsia Flight 8501," said Mark D. Martin, chief executive of Dubai-based Martin Consulting LLC, adding airline operators of the A320 could potentially face fleet grounding or costs if any affected aircraft needed to be inspected or modified.
Popular Model
PT Indonesia AirAsia, AirAsia X, Lion Group's Batik Air and Garuda's PT Citilink Indonesia also operate A320s in Indonesia, the transport ministry said.
Garuda is not changing its plane-buying contracts with Airbus but will allow the government to inspect its A320s and ground any planes with repetitive trouble, the company's chief executive, Arif Wibowo, said in an interview Thursday.
Batik Air's A320s are new and it expects to have no problems with regulator checks, with no issues found on the rudder unit so far, President Director Achmad Luthfie said. Citilink, which has 36 A320s under three years old, says it has good plane maintenance under Garuda's facilities and will allow authorities to check the planes, spokesman Benny Butarbutar said.
Indonesia AirAsia's President Director Sunu Widyatmoko did not respond to phone messages seeking comment.
Before it's here, it's on the Bloomberg Terminal.
LEARN MORE