Haute Chocolate: Four New Takes on the Classic Cold-Weather Treat
By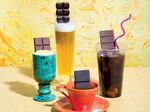 Blended
Try it at: Dandelion Chocolate, San Francisco
In this drink, the raw fruit from the cacao pod—the stuff around the beans, not the beans themselves—is blended with ice and sugar. The resulting drink from this chocolate factory in the Mission District looks like a piña colada and tastes like lychee fruit: mild, tart, and tropical.
Beer (sort of)
Try it at: Mast Brothers chocolate shops in London and Brooklyn, N.Y.
Mast Brothers takes cold-brewed chocolate (see far right) and injects it with nitrogen for a soft, Guinness-like fizz. Both locations offer three varieties on tap: sweet, dry, and vanilla-infused, which is like a lighter, chocolaty root beer. Bottled versions are in the works. Alcoholic versions are not.
Steeped
Try it at: Vicuña Chocolate Factory & Café, Peterborough, N.H.
Vicuña Chocolate Factory owner Neely Cohen went to Peru to learn about chocolate making and got hooked on the infusion the farmers would make from cacao husks and nibs. She serves the same bright, nutty tea at her cafe in New Hampshire and sells bags of it for customers to make the drink at home.
Cold-Brew
Try it at: Home with a sampler from Map Chocolate, Eugene, Ore. ($15, mapchocolate.com)
Like cold-brew coffee, cold-brew chocolate is less acidic than the hot version. To make it, soak ¼ cup cacao grounds in a quart of water for at least four hours, then strain out the solids. Drink the beverage cold or warm, with coconut milk or cream, sweetened or unsweetened.
Before it's here, it's on the Bloomberg Terminal.
LEARN MORE