Good News: Economists Are Getting More Bearish on U.S. Growth
Not-so-great expectations.
by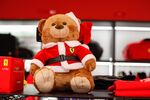 Expectations for U.S. growth are getting dimmer by the day.
A few calls for 2016 stand out as notably pessimistic, such as the forecast from Citigroup's rates team that a recession is more likely than not, or Morgan Stanley's projection for growth of 1.9 percent. 
But the general direction of growth projections among analysts surveyed by Bloomberg has been clear.
The consensus forecast for U.S. GDP growth in 2016 has slipped to 2.5 percent from 2.8 percent in August. For comparison, in 2013 and 2014, the year-ahead growth outlook didn't decline in line with the temperature:

U.S. growth is not something that economists are growing more optimistic about, and as Harvey Dent quipped in The Dark Knight, "The night is darkest just before the dawn."
"One reason we should be more upbeat for next year is that everyone is slicing and dicing their estimates heading into 2016," said Neil Dutta, head U.S. economist at Renaissance Macro. "So the bar for an upside surprise to GDP ain't that high."
That'd be a marked switch from recent history, as economists have routinely proven to be overly bullish around the holiday period on the U.S. economy's 12-month prospects. Deutsche Bank's George Saravelos recently made a similar point, observing that financial markets appeared to be pricing in secular stagnation.
The year-ahead growth forecasts last tumbled in the runup to New Year's Eve in 2012, but the narrative surrounding this progression was clear: Government spending was poised to become a substantial drag on growth in 2013 because of intransigence in Congress (remember the fiscal cliff?). As a caveat, however, growth in 2013 did manage to underwhelm the reduced expectations.
This time around, it's difficult to pinpoint the impetus for the series of declines, though the lofty dollar and subdued global growth environment are slated to weigh on the U.S. external sector. Economists are also growing increasingly pessimistic about just how fast the U.S. economy's top speed is, Dutta observed.  
It's worth noting, however, that economists began to ratchet down their estimates for growth around the time of the Chinese currency devaluation in August. This surprising event caused a spike in fear about the state of the world's second-largest economy and its growth outlook, with carnage in financial markets soon following. Tighter financial conditions can trickle through into the real economy and depress activity, suggesting one potential reason economists have not-so-great expectations.
In addition, the U.S. Economic Surprise Index, which typically suffers as disappointing first-quarter data are released but reverts to the mean afterward, has seen only a meager rebound this year.
Dutta outlined the kind of market reaction he'd expect in the event that U.S. growth surprises to the upside.
"U.S. Treasury yields should rise," he said. "That could speed up the Fed, which would imply a hit to stocks in the immediate term."
Thus it seems the U.S. economy may have managed to take a page out of Corporate America's book. Executives at publicly traded companies have proven quite adept at massaging earnings expectations downward to elicit positive market reactions once the quarterly results exceed beaten-down estimates.
Before it's here, it's on the Bloomberg Terminal.
LEARN MORE