pursuits
Fugitive Russian Ex-Billionaire Faces U.K. Arrest Warrant
By
Pugachyov subject to a $2 billion worldwide asset freeze

Left U.K. for France this year over security concerns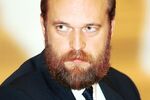 Former Russian senator Sergei Pugachyov is subject to a U.K. arrest warrant for continuing to flout court orders in his dispute with the Russian Deposit Insurance Agency over the collapse of International Industrial Bank.
Pugachyov, who is subject to a $2 billion worldwide asset freeze, has faced trials in Russia and the U.K. as the DIA attempts to claw back money it says the businessman embezzled as the bank neared collapse in 2010. A spokesman for Pugachyov said the ruling could be overturned as soon as Monday.
A London judge ordered him to attend a hearing in person but he failed to show, which brought the arrest warrant, according to a court order made public Thursday. A committal hearing is scheduled for early next week, when Pugachyov can appeal the order.
The ex-senator for the Tuva region on the border with Mongolia fled to France earlier this year, saying he had concerns over his own safety, according to documents filed at the London High Court.
A spokesman for Pugachyov said in a statement that ruling was procedural.
"We believe that this decision will be overturned during hearings scheduled for Monday as Mr. Pugachyov agreed to take part via video link," Dmitry Morochenko, a representative for the former senator, said in the e-mailed statement.
Morochenko also said the warrant has no legal bearing because Pugachyov is a French citizen who has resided in the country for many years.
Pugachyov was placed on Interpol's most-wanted list last year on charges of misappropriation or embezzlement. DIA sued in London because he owned assets in the city.
Russia revoked International Industrial Bank's license in 2010 after the bank defaulted on 200 million euros ($219 million) in foreign currency bonds.
Pugachyov has previously said that he has been subject of a political campaign to bankrupt and discredit him. The DIA's lawyers declined to comment.
(
Updates with Pugachyov statement in fifth paragraph.
)
Before it's here, it's on the Bloomberg Terminal.
LEARN MORE