Europe Stocks Fluctuate After ECB as Traders Await Draghi Speech
by
Stoxx 600 reverses earlier gains, all industry groups fall

Germany's DAX Index, France's CAC 40 Index drop more than 3.5%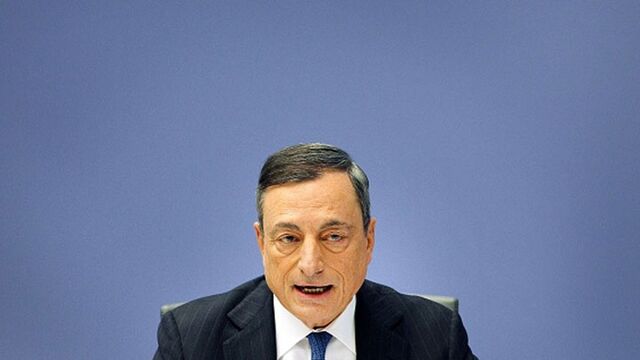 European equities tumbled the most since the August selloff as the additional stimulus measures unveiled by the region's central bank underwhelmed investors.
The Stoxx Europe 600 Index lost 3.1 percent at the close of trading in London, reversing a gain of 0.9 percent. The European Central Bank lowered its deposit rate, and President Mario Draghi said it will extend its quantitative-easing program until at least March 2017, including debt issued by regional and local governments. It didn't, however, expand its monthly asset purchases.
"There was underdelivery all the way from the ECB today and the interest rate announcement was just the beginning of it," said Jasper Lawler, a London-based market analyst at CMC Markets Plc. He recommends selling German stocks because the euro's weakness that has boosted exporters so far may be over. "They did something, but not enough. The market believed Draghi too much and wasn't paying too much attention that the European recovery had been improving."
Heading into today's meeting, investors had high expectations. The Stoxx 600 climbed 13 percent from its low in September through yesterday, including its best two-day rally since July after Draghi signaled in October that the central bank would consider additional measures. On Monday, the gauge closed at a three-month high, taking its valuation to 16.5 times estimated earnings -- closer to the multiple of 17.6 for the Standard & Poor's 500 Index.
Traders were so confident that they saw little need to hedge: The number of Euro Stoxx 50 Index options changing hands last month was the lowest since July 2014. Contracts betting on further gains were the most owned.
After leading gains earlier on Thursday, carmakers were some of the biggest losers as the euro erased losses. Out of 600 companies in Europe's stock gauge, 560 fell, with commodity producers slumping the most. Trading of Stoxx 600 companies was 36 percent greater than the 30-day average.

The ECB cut its deposit rate 10 basis points to minus 0.3 percent, in line with the move forecast by economists in a Bloomberg survey. All of them had predicted an expansion of stimulus. Policy makers left the main refinancing rate and the marginal lending rate unchanged. 
The central bank revised its inflation outlook, cutting it to 1 percent for 2016 and 1.6 percent for 2017, from 1.1 percent and 1.7 percent, respectively. It kept its prediction for next year's economic growth at 1.7 percent and increased it to 1.9 percent for 2017, from 1.8 percent.
UBS Group AG said it kept its overweight rating on European stocks after today's central-bank decision.
The slide in exporters hurt Germany's DAX Index and France's CAC 40 Index. They were some of the biggest decliners among western-European countries today, reversing earlier jumps. Here are some of the largest market moves:
* The DAX fell 3.6 percent, with Daimler AG leading the losses
* The CAC 40 lost 3.6 percent, as yogurt maker Danone slid more than 5 percent
* Italy's FTSE MIB Index declined 2.5 percent
* Spain's IBEX 35 Index dropped 2.4 percent
Before it's here, it's on the Bloomberg Terminal.
LEARN MORE