Five Things Everyone Will Be Talking About Today
The big week continues. Catch up on what everyone's talking about.
by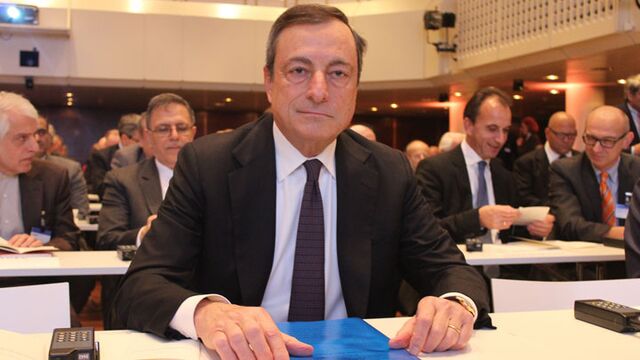 Janet Yellen is scheduled to speak again and metals are resuming their slump, but all eyes are on European Central Bank President Mario Draghi. Here are some of the things people in markets are talking about today.
It's Draghi's big day
Every economist surveyed by Bloomberg expects more stimulus from ECB President Mario Draghi today - investors are pricing in a 100 percent probability of a 10 basis-point cut in the deposit rate from the current minus 0.2 percent, with an 81 percent chance of a 15bps trim. The euro dropped to a near seven-month low, European stocks were near a three-month high and measures of credit risk fell in anticipation. In a seminal shift, says one market watcher, the ECB has bumped the Fed from the perch and become the world's primary risk manager. Among the answers the market will be expecting: Will action now put inflation back on track?
Yellen speaks before Congress 
Fed Chair Janet Yellen will speak before Congressional lawmakers, her second day of comments on the state of the economy. Yesterday she suggested the pace of future rate hikes could depend on "actual progress" in meeting inflation targets. That's a shift from the requirement the Federal Open Market Committee set for an initial move, to be "reasonably confident" that inflation would shift back to its goal over the medium term. The language adds to reasons to expect that rates will rise gradually after a widely-anticipated liftoff later this month (traders see current odds of a December rate hike at 74 percent). Her remarks come before November payrolls data due tomorrow - the most-anticipated piece of U.S. data to land ahead of the Fed's Dec. 16 decision. 
Another bad day in the metals market
First zinc, then nickel, and now copper - production cuts by Chinese smelters are failing to prop up metals markets. Metals producers worldwide are gauging their response to prices at multi-year lows amid a slowdown in Chinese consumption and a glut of inventory. Things are looking particularly grim for iron ore, which may be on the cusp of dropping into the $30s a metric ton. The London Metal Exchange Index of six base metals is heading for a 26 percent decline this year and prices are at multi-year lows. BHP Billiton and Anglo American shares are taking another hit. For the world's metals-mining industry to have any hope of a turnaround, more companies might have to go bankrupt. 
Oil rebounds
Oil is rallying today from its lowest price in more than six years ahead of the OPEC meeting tomorrow in Vienna. Cash-strapped OPEC nations from Venezuela to Iran are piling pressure on Saudi Arabia to reduce oil output, but the group's biggest producer insists it will only do so if countries outside the organization join in. As OPEC's de facto leader, Saudi Arabia may propose an eventual group production cut of 1 million barrels a day that may take effect in 2016, Energy Intelligence reported Thursday, citing a group delegate it didn't identify. 
Impeachment in Brazil 
Impeachment proceedings have begun in an attempt to remove Brazilian President Dilma Rousseff from office, deepening a political and economic crisis that has sent the nation spiraling into what is now being called "an outright depression." The most recent casualty of the widespread corruption scandal is the bank BTG Pactual, which is struggling  after its founder, CEO, and biggest shareholder was arrested and forced to cede control of the company. 
What we've been reading
This is what's caught our eye over the last 24 hours.
 Want to receive this post, and more, into your inbox every morning? Sign up here
Before it's here, it's on the Bloomberg Terminal.
LEARN MORE