Draghi's Weeks of Rhetoric Culminate in ECB Stumble on Stimulus
By
Deposit-rate cut plus QE boost at low end of expectations

ECB president insists fresh measures will be `adequate'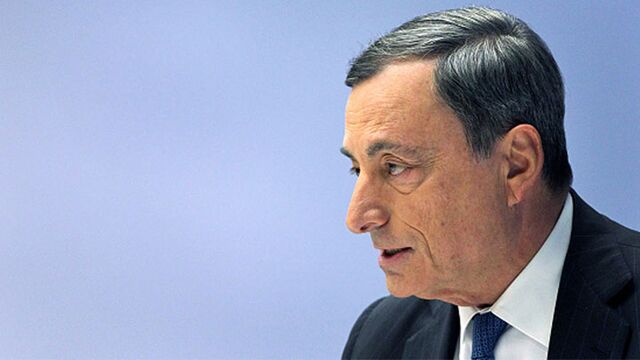 Mario Draghi might have missed the mark this time.
The European Central Bank's 360 billion-euro ($393 billion) stimulus boost and rate cut on Thursday, which was in line with the president's wishes, sent the euro soaring and stocks and bonds tumbling as disappointed investors matched reality to their expectations. The disconnect was even enough to catch the eye of Federal Reserve Chair Janet Yellen, who commented in the U.S. Congress that "the market expected some actions that were not forthcoming."
In six weeks of buildup since the previous monetary-policy meeting, Draghi and his closest colleagues had communicated growing concern about the low pace of euro-area inflation and the risks to the economic recovery. Investors read into that a larger scale of easing than actually turned up, highlighting the difficulty in calibrating guidance to market participants who hang on the ECB chief's every word.
"There's no escaping the fact that it was a disappointment," said Frederik Ducrozet, an economist at Banque Pictet & Cie SA in Geneva. "Expectations were boosted by the rhetoric."
European bonds tumbled, pushing Germany's 10-year yield up by the most since 2012. Investors expecting more dovish measures had driven the five-year note yield to a record low before the meeting. The euro jumped as much as 3.5 percent against the dollar after Draghi's Thursday press conference, before falling 0.3 percent on Friday to trade at $1.0903 at 2:21 p.m. Frankfurt time.

"The fault lies with the markets," ECB Vice President Vitor Constancio said in an interview with CNBC broadcast Friday. Investors "didn't read well our reaction function," he said, adding that the central bank "still has measures in its toolkit" if the situation changes significantly.
Exhibit A in the case for ECB oversell is Draghi's Nov. 20 speech in Frankfurt, where he said officials would "do what we must to raise inflation as quickly as possible." That phrase, coupled with the steady drumbeat since October of policy makers stressing their capacity to boost quantitative easing, fed the assumption that he would over-deliver at the Dec. 3 meeting.
The ECB's chief economist, Executive Board member Peter Praet, worried publicly about the threat to the institution's credibility if it didn't get a grip on too-low inflation. The central bank tries to keep annual price gains on average just below 2 percent, arguing that a lower rate runs the risk of accidentally falling into a damaging downward price spiral. Inflation hasn't been above 0.1 percent since July.
Draghi announced that QE would be extended by six months until at least March 2017 at the current rate of 60 billion euros a month, taking the total size to 1.5 trillion euros, and asset eligibility would be broadened to include local and regional debt. Investors had priced in more than the 10 basis-point-cut that was made to the deposit rate, and most economists surveyed by Bloomberg foresaw an increase in the monthly pace of QE.
Communication Counts
The reaction "confirms what Ben Bernanke wrote in his recent book, that 'monetary policy is 98 percent communication and only 2 percent action,'" Joachim Fels, managing director at Pacific Investment Management Co LLC in Newport Beach, California, said in an interview with Bloomberg Television. "They did cut the deposit rate and he refused to say that we're at the lower bound, so there is room for more. This is not bad action, but the communication counts a lot in financial markets."
Against the background of steady, if slow, economic growth in the euro area, some Governing Council members have argued against the need for a more ambitious stimulus program. That argument may have stayed Draghi's hand in the scale of the expansion that he ultimately proposed. Even then, as many as five of the 25 Governing Council members failed to support Thursday's decision, according to people familiar with the matter.
Detail Needed


The Governing Council debate may have been finely calibrated. Ilmars Rimsevics, governor of Latvia's central bank, said on Friday that he had supported some, but not all, of the package announced. Greece's Yannis Stournaras argued that a weaker euro as a result of loose ECB policy will help his country's exporters. Jan Smets, governor of Belgium's central bank, said that the policies are working no matter what the market response may be.
Still, if Draghi wanted to deliver a modest package and leave no doubt about the readiness to do more, he didn't provide enough detail, Pictet's Ducrozet said. He should have elaborated on how low the deposit rate could go or which features of the QE program could still be adjusted.
In fact, even though Draghi repeated the statement about being "willing and able" to act further, he hinted it wouldn't be necessary.
"I don't think our communication was wrong," he told reporters on Thursday when challenged about the gap between expectations and delivery. "This cut in the deposit rate, we think it's adequate. We're confident that these decisions are adequate to achieve our objectives."
He will have an opportunity to explain his stance again on Friday, when he speaks in New York at 12:20 p.m. local time.
Market participants may also have been blinded by irrational exuberance, losing sight of the monetary easing that the extra stimulus delivers. In a Bloomberg survey of 44 economists before the decision, 14 forecast a deposit-rate cut of 20 basis points or more. Others had foreseen an extra 20 billion euros of asset purchases per month.
Unreliable Boyfriend
Investors thought "there was going to be a more fundamental reassessment of global and domestic demand," said Nick Matthews, head of European economic research at Nomura International Plc in London. "When the dust settles, policy is more accommodative than before."
Draghi isn't alone among central bankers struggling to convey their message. Bank of England Governor Mark Carney was labeled an "unreliable boyfriend" by a U.K. lawmaker last year after he first told investors they were behind the curve, then two weeks later said there was more spare capacity in the labor market than thought.
Yellen has faced criticism this year for holding off on a decision to imposing the Fed's first rate increases since the financial crisis, contrary to previous signals.
Draghi, who has successfully introduced multiple measures in the face of opposition from politicians and policy makers, may now have to work to repair his reputation among investors who once lauded him as "Super Mario."
"The ECB's mismanagement of market expectations will have implications going beyond the day," analysts including Hans Redeker and Ian Stannard at Morgan Stanley & Co. Intl. Plc said in a note to clients. "In the future it will be more difficult for Draghi to steer markets into the desired direction, suggesting many to assume that Mario has lost his magic."