Draghi's Less-Than-Super Currency Backlash Kills Consensus Trade
by and
Euro's surge after ECB policy decision hurts inflation outlook

Deutsche Bank recommends closing short-euro positions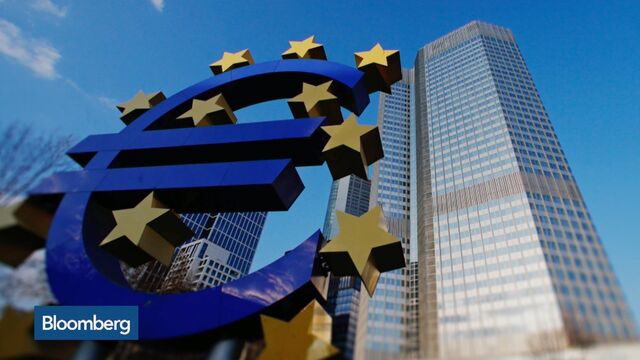 In the end, not even Mario Draghi could do enough to meet the lofty expectations of the currency market.
The European Central Bank president, nicknamed "Super Mario" for his record of decisive policy actions, failed to live up to that reputation with the extra monetary stimulus he unveiled on Thursday.
He paid the price with the euro surging the most since 2009 against the dollar. Options traders cut bearish bets on the shared currency by the most since August. Deutsche Bank AG, the world's second-biggest foreign-exchange trader, and Barclays Plc recommended closing positions that would profit from a weaker euro, while Goldman Sachs Group Inc. said it was reviewing its forecasts.

More pain may be in store if the jump in the euro becomes a sustained rally: hedge funds and other large speculators had pushed short positions on the currency close to the highest on record in the run-up to the final ECB meeting of 2015. Also at risk are the central bank's own inflation targets, because a weak currency is key to pushing price growth up from near zero.
"It'll take more than this to kill a euro bear, but it's going to be a more difficult winter for them," said Daragh Maher, New York-based head of U.S. foreign-exchange strategy at HSBC Holdings Plc. Europe's biggest bank has been more bullish on the single currency than most contributors to Bloomberg's euro survey since the end of the first quarter. "It was always going to be a stretch for Draghi to over-deliver to a market that had become quite aggressively dovish in terms of its expectations."
Repeated Hints
By repeatedly hinting about an expansion to the ECB's bond-buying program, and a deposit-rate cut to make more bonds eligible for purchase, Draghi helped the euro fall close to March's 12-year low of $1.0458 just before the announcement.
But the reality didn't match the speculation. The ECB extended its quantitative-easing program through March 2017 and lowered the deposit rate by 10 basis points, or 0.10 percentage point, to minus 0.3 percent. A cut of slightly more than that had already been priced into markets, and banks including ABN Amro AV, Commerzbank AG and DZ Bank AG predicted a 20 basis-point reduction.
Decline Pared
The euro rose 3.1 percent to $1.0940 Thursday, the biggest rally since a 3.5 percent gain on March 18, 2009, when the Federal Reserve said it would purchase $300 billion of longer-term Treasuries to bolster economic growth. It fell 0.5 percent to $1.0891 as of 11:48 a.m. in New York.
Thursday's closing price was within a cent of HSBC's year-end forecast of $1.10. That cut its decline this year to less than 10 percent, from 12 percent as of Wednesday. The median prediction of strategists surveyed by Bloomberg put the shared currency at $1.05 by next December.
The cost of options that would benefit from a weaker euro had been falling before the ECB meeting, and dropped further on Thursday. The premium on three-month contracts to sell the currency over those to buy narrowed by 0.1 percentage point, the most since Aug. 24 in percentage terms, to a four-month low of 0.7 percentage point.
Mark Dowding of BlueBay Asset Management LLP, which oversees $60 billion, said he'd gone into the ECB meeting betting the dollar would weaken.
"There are some unhappy people out there who will be in a much darker mood than I am tonight," said Dowding, a money manager at the company in London. "We were struck by the fact that, not only had every strategist we could think of moved to a position where they'd hated the euro and loved the dollar, but the majority view was for euro-dollar to go down and test parity."
He sees the euro trading in a range of $1.07 to $1.12 over the next few months.
Building Expectations
Speculators increased bets on a weaker euro to 175,484 contracts in the week to Nov. 24, the most since May, data from the Commodity Futures Trading Commission in Washington show. The net shorts peaked at 226,560 at the end of March, the most ever in figures dating back to January 1999.
"The market had built their own expectations after numerous dovish sound-bites from policy makers," said Richard Benson, a money manager at currency hedge fund Millennium Global Investments Ltd. in London. "I'm surprised by the central bank's communication. It doesn't have to tell the market what it's going to do. But to allow expectations to go so far off a tangent to what they were thinking is a surprise."
Before it's here, it's on the Bloomberg Terminal.
LEARN MORE