Can Thailand's Seafood King Get Off the Hook?
Thai Union Group's plan to dominate the fish aisle may falter.
By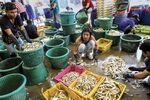 When Thai Union Group agreed to buy the Bumble Bee tuna brand from private equity fund Lion Capital for $1.5 billion in December 2014, the company appeared to be on the brink of achieving Chief Executive Officer Thiraphong Chansiri's goal of becoming the world's top seller of branded shelf-stable seafood sold in cans and pouches. Now, almost a year later, the Thai company, which owns Chicken of the Sea and top European brands, is still waiting to close the deal—and the uncertainty is weighing it down.
In August, Thiraphong said he expected a decision from U.S. antitrust regulators within six weeks. That deadline passed. Now he says Thai Union should get word on Dec. 18. If he's wrong again, the delay could further disappoint investors who already have helped pull down Thai Union's shares 18 percent this year. The regulatory concerns over the acquisition, combined with worries over the weak economies in Europe and Japan and fluctuations of the baht, are hurting exports. "The market is waiting for clarity on the Bumble Bee deal," says Bualuang Securities analyst Prasit Sujiravorakul, who adds that an outright rejection would be preferable to more delays. "Instead of getting stuck with a deal where you don't really know the results," he says, "it would be better to go with other deals."

Thiraphong wants company revenue to hit $8 billion by 2020, more than double last year's, so Thai Union has been expanding via acquisitions. In 2010 it paid €680 million ($718.3 million) for MW Brands, the Paris-based owner of British seafood brand John West and French brand Petit Navire. Four years later it purchased King Oscar, a Norwegian maker of canned seafood, as well as MerAlliance, a French company that produces smoked salmon. This year it bought lobster processor Orion Seafood International, based in Portsmouth, N.H. Bumble Bee Seafoods would add $1 billion to Thai Union's annual sales, which were about $3.4 billion in 2014.
That growth has captured the attention of critics of the company and its suppliers. Since August, Thai Union's American subsidiary Tri-Union Seafoods has become a defendant in more than 60 class actions in the U.S. charging that Chicken of the Sea engaged in price fixing with American rivals. In November, Greenpeace published a report criticizing Thai Union, alleging it buys from suppliers operating in Thailand that use forced labor on their fishing boats. One Thai Union customer, Nestlé, says an internal inquiry found labor abuses aboard boats and at production facilities in its supply chain (it didn't identify at which suppliers), and it's implemented safeguards to stop such abuses. "The tuna industry is out of control," says Graham Forbes, global seafood markets project leader for Greenpeace.
With the Bumble Bee transaction in limbo, Thai Union can't afford to let the criticism stand. The company "will vigorously defend itself in these lawsuits," it said in a statement. It's pushing back against Greenpeace as well, saying in another statement that it no longer sources from a supplier and fishing vessel cited in the report. Thai Union says an independent auditor does annual surveys of its supply chain and it "continues to enforce a strict code of conduct with regards to ethical labour practice and ensures all suppliers fully understand our code of conduct."
In response to pressure from the European Commission, Thailand's military government in November approved a plan to send teams to inspect fishing vessels and docks and conduct random checks of seafood processing plants. "Those that cheat, violate the law, or conduct human trafficking, these people have no place in Thai society, let alone any society," Prime Minister Prayuth Chan-Ocha said on Nov. 6.
In July, Thai Union suspended a share sale that was supposed to fund the Bumble Bee purchase. Still, Thiraphong says he's committed to completing the transaction and is even willing to sell Chicken of the Sea to reduce concerns that the Bumble Bee purchase may give the company too much market power. If regulators nix the deal, Thai Union is likely to make another acquisition, says Sunthorn Thongthip, an analyst at Krungsri Securities. With or without Bumble Bee, "we will continue to pursue our revenue growth," Thiraphong told reporters on Nov. 24. "But it will definitely take more time."
—With Anuchit Nguyen and Chris Blake
The bottom line: If it gets a U.S. regulatory nod, the $1.5 billion buyout of Bumble Bee would make Thai Union the No. 1 seller of shelf-stable seafood.
Before it's here, it's on the Bloomberg Terminal.
LEARN MORE