Cameron Tells Merkel EU Deal Remains Elusive Amid Resistance
by and
No deal now anticipated at this month's summit of EU leaders

`We will not take our foot off the pedal,' Cameron says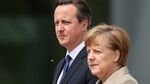 Prime Minister David Cameron told Angela Merkel that a deal on the terms of Britain's membership of the European Union remains elusive as negotiations with EU partners run into obstacles.
In a call with the German chancellor on Thursday, Cameron and Merkel agreed that while "good progress" had been made, "there remain difficult issues to resolve," the prime minister's office said in an e-mailed statement.
As a result, Cameron said that he didn't expect Britain's demands for EU reform to be resolved at the last EU summit of the year, on Dec. 17-18.
Cameron is seeking to renegotiate Britain's membership of the 28-nation bloc ahead of a referendum he has promised to hold by the end of 2017. He met with EU President Donald Tusk this week to flesh out the next phase of the U.K. negotiations on EU reform amid opposition from other members.
The end-of-year summit had been identified as the moment when governments would set out which of the U.K.'s demands they could accept and form a basis for Britain's referendum. Resistance is centered on a proposal to deny some benefits to non-British EU workers in the U.K.
Any slippage in the timetable isn't necessarily bad for Cameron's government, which has to be seen to extract concessions from the EU to convince voters it's struggled to win reforms that make staying a member worthwhile. While the referendum is anticipated in 2016, Chancellor of the Exchequer George Osborne said this week that he wouldn't rule out holding it in the second half of 2017.
"The scale of what we're asking for means we will not resolve this easily," Cameron told reporters in Bulgaria on Thursday. "It is difficult, we're not going to agree it in one day."
Matthew Elliott, who heads the "Vote Leave" campaign, dismissed the renegotiation process as a "smokescreen," saying in an e-mailed statement that Cameron had already ditched most of the demands he had promised to deliver.
Cameron's office said that the prime minister's priority was to "get the substance right," and win "legally binding, irreversible changes."
"We will not take our foot off the pedal," Cameron said.
Before it's here, it's on the Bloomberg Terminal.
LEARN MORE