Brokers Working for Hayes Would Say One Thing, Do Another
by
Danny Wilkinson testifies for first time on Libor charges

Hayes was `the best trader I've ever seen,' Wilkinson Says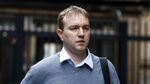 A former ICAP Plc broker who once described Tom Hayes's requests to manipulate Libor as "so illegal, it's ridiculous," told a London jury that the only way to deal with the former UBS Group AG trader was "say you would do something and not do it."
Danny Wilkinson, one of six brokers on trial on charges they helped Hayes rig the benchmark interest rate, said on his first day of testimony that Hayes was a "megalomaniac" who "screamed profanities." Wilkinson said brokers learned to at least pretend to agree to the requests of the successful trader.
"It would get him off your back," the 49-year-old Wilkinson said Thursday. "Everyone in the market treated Tom that way."
Wilkinson is one of a half dozen brokers from ICAP, Tullett Prebon Plc and RP Martin Holdings Ltd. on trial for allegedly helping Hayes, a former UBS and Citigroup Inc. trader, rig the yen variant of the London interbank offered rate, a benchmark used to price trillions of dollars worth of financial contracts from mortgages to credit cards and student loans. Hayes was convicted of conspiracy to commit fraud in August and sentenced to 14 years in prison.
While brokers were leery of Hayes, Wilkinson said that the former banker "was the best trader I've ever seen."
"I never came across anybody who could make as much money as Tom," Wilkinson said. "Hayes was almost like 'the Matrix.' He made hundreds of millions of pounds for UBS."
In a recording of a 2009 phone call played for the jury, Wilkinson told a trader at a different bank that Hayes was "out of control" and a "loony." On the same call, Wilkinson said that one request by Hayes was "so illegal, it's ridiculous."
Still, in testimony, Wilkinson said brokers had to find limits in their dealings with Hayes.
"There was general fact-finding, like 'do you see a turn?' That was OK," Wilkinson said. "Asking a bank to 'put Libor here' -- That was wrong."
Before it's here, it's on the Bloomberg Terminal.
LEARN MORE