Brazil Assets Surge as Impeachment Move Brings Resolution Closer
by and
State-controlled Petrobras, Banco do Brasil pace advance

Some investors optimistic political crisis closer to an end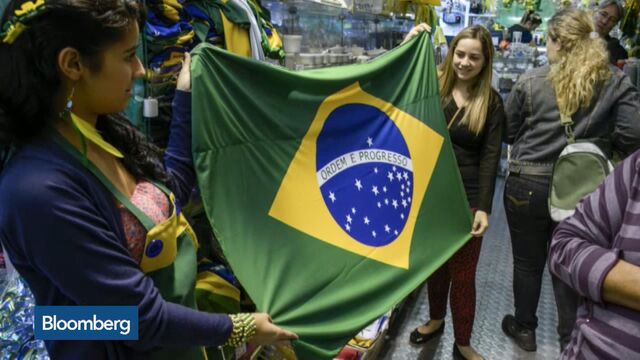 Brazilian stocks bucked a global selloff in equities and the currency jumped after a top lawmaker started the process to oust President Dilma Rousseff, boosting speculation the political crisis that has paralyzed the country is closer to an end.
All except eight of the 63 shares in the Ibovespa rose as state-run Petroleo Brasileiro SA and Banco do Brasil SA surged. A gauge of financial shares jumped the most in a month. The real had the biggest gain in almost five weeks.

While investors in the past have been split about whether impeachment would be positive for Brazil, some now say that the decision could finally lead to a resolution of a months-long political stalemate. Rousseff's administration has struggled to push through fiscal changes she says are needed to reverse the biggest budget deficit in more than two decades and ward off further credit-rating cuts for Latin America's largest economy.
"This euphoric reaction of the stock market today shows how much investors are eager for some kind of solution that ends this turmoil and paves the way for the country to get back on track," Alvaro Bandeira, an economist at Banco Modal, said from Rio de Janeiro. "There's still a lot to happen before a final settling, so we should be prepared for more volatility in the coming weeks."
The president, who started her second term in January, has been fighting for her political survival for months, leaving Congress in disarray, rattling financial markets and deepening an economic slump poised to be the worst since the Great Depression. The political crisis has made the real the worst-performing major currency in the world this year, and set stocks on pace for a third year of losses.
Lower house chief Eduardo Cunha said Wednesday after the close of Brazilian markets that he accepted a request to impeach Rousseff, triggering procedures that may take months, involving several votes in Congress. The nation's biggest exchange-traded fund jumped in New York after the announcement, and gauges of Brazilian shares in Asia and Europe also climbed. The iShares MSCI Brazil Capped ETF recorded $24.2 million in inflows Wednesday, the most in two months.
The Ibovespa rose 3.3 percent to 46,393.26 in Sao Paulo, the most in a month. The rally spurred a rebound in its valuation from the lowest level since January 2014. The gauge traded at 1.09 times book value, or assets after subtracting liabilities, according to data compiled by Bloomberg. That's still about half the average multiple of global stocks.
Petrobras rose 4.4 percent and Banco do Brasil added 8.4 percent. The MSCI Brazil Financials Index jumped 7.4 percent. Lender Itau Unibanco Holding SA climbed 6.4 percent.
Credit-default swaps protecting against a Brazilian default over the next five years were little changed at 450 basis points after surging about 50 basis points over the previous six days. The extra yield investors demand to hold the country's debt instead of U.S. Treasuries fell 0.06 percentage point to 4.55 percentage points, according to JPMorgan Chase & Co. indexes.
The currency rallied 2.1 percent to 3.7591 per dollar, boosted by the impeachment move as well as the approval of a bill to relax this year's fiscal target in Brazil's Senate and lower house. If Congress didn't pass the measure, the government would risk breaching budget rules. Brazil's central bank signaled Thursday it's ready to boost borrowing costs early next year as political and economic issues threaten to keep inflation above its target for longer than initially expected.
The nation has suffered four credit-rating downgrades on Rousseff's watch as a slump in commodity prices throttled the economy and the government increased spending to try to jump-start growth, eroding fiscal accounts. The currency has slumped 56 percent since she took office in 2011, while the benchmark stock gauge has lost 33 percent.
The impeachment request accuses Rousseff of breaching Brazil's fiscal responsibility law in 2014 and 2015. It also says her campaign received funds stemming from fraudulent activities. Rousseff told reporters yesterday she was "outraged" with Cunha's decision.
"After clarifications on what happens next, the impeachment process could contribute to an improvement in expectations," Leonardo Monoli, a partner at Jive Asset Gestao de Recursos, said. "We can't keep going like this. The current situation is killing the country."
Before it's here, it's on the Bloomberg Terminal.
LEARN MORE