Brazil Signals Rate Rise on the Radar as Impeachment Starts
by
Central bank says it will do what it takes to tame inflation

Real appreciated after house speaker accepted impeachment plea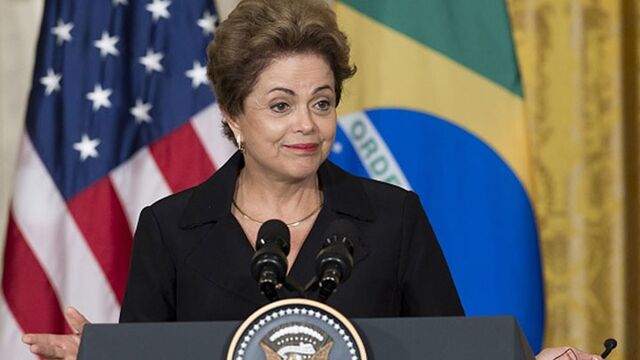 Brazil's central bank signaled it's ready to boost borrowing costs early next year as the start of impeachment proceeding against President Dilma Rousseff deepens a political crisis that is derailing the economy.
Higher political and economic uncertainties threaten to keep consumer price increases above target for longer than initially expected, the central bank said Thursday in the minutes to its Nov. 24-25 meeting. It vowed to adopt the measures needed to hit the 4.5 percent inflation target in 2017. The bank published the comments less than 24 hours after the head of lower house accepted an impeachment process against Rousseff.
The central bank kept the key rate at a nine-year high of 14.25 percent last week as it faces a deeper-than-forecast recession and inflation that accelerate to 10.28 percent in mid-November. Two of the eight board members dissented and voted to raise borrowing costs in a sign the central bank may tighten monetary policy early next year. The majority agreed they had time to monitor the situation until the next meeting in January, before reassessing the need to change strategy, the minutes said.

The real gained Thursday as traders bet impeachment proceedings will resolve a political crisis that has paralyzed Brazil. The process will either validate Rousseff's mandate and strengthen her hand or create the conditions for a new coalition to take over and end the divide in Congress.
"The important thing is that Brazil has a political resolution at some point over the next few months," said Pablo Cisilino, who helps manage about $42 billion in emerging-market debt, including Brazilian bonds, at Stone Harbor Investment Partners LP in New York. "If impeachment is the way to get it, then it'll be welcomed by the market. But there are so many twists and things that can happen between now and then."
Inflation Outlook
Brazil's inflation outlook has worsened despite rising unemployment and a drop in gross domestic product, prompting traders to bet the central bank will resume interest rate increases as early as next month. Political turmoil has prevented Rousseff from winning approval of austerity measures that she says would help fight inflation and restore confidence in the economy.
"The central bank has made it perfectly clear it will raise rates if fiscal policy doesn't improve," said Luciano Rostagno, chief strategist at Banco Mizuho do Brasil SA. "Now the impeachment process will be the only focus of Congress, and it will be difficult to have important austerity measures passed by legislators."
Swap rates on the contract maturing in January 2017 rose two basis points to 15.68 percent at 10:45 a.m. local time as traders increase bets the central bank will resume interest rate hikes. The real gained 0.6 percent to 3.814 per U.S. dollar.
Impeachment Proceedings
Cunha said Wednesday night he accepted one of 34 requests to impeach the president on charges that range from illegally financing her re-election to doctoring fiscal accounts this year and last. He is scheduled to meet late Thursday morning with lawmakers to create a multi-party committee that will recommend how the full house should vote on the issue.
For impeachment hearings to start in the Senate, two-thirds of the 513 members of the lower house must vote in favor of the request. If hearings start in the Senate, Rousseff would be removed from office and her vice president, Michel Temer, would take over.
Brazil's political crisis has sparked a selloff in the country's assets this year. The real is worst performer against the dollar among emerging-market currencies and five-year credit default swap more than doubled to 448 basis points.
To make matters worst for policy makers, Brazil's economy contracted more than forecast in the third quarter as GDP dropped 1.7 percent compared to previous three months. Goldman Sachs Group Inc. said Brazil's recession was turning into an "outright depression" as the GDP report showed no signs of recovery.
Industrial production fell faster than estimated by analysts, accumulating a 11.2 percent drop on a yearly basis after a 0.7 percent fall in October, the national statistics agency said on Thursday.
Analysts surveyed by the central bank forecast the economy will shrink 3.2 percent this year and 2 percent next, the first back-to-back contraction since 1931. They also estimate inflation will exceed the upper limit of the central bank's 2.5 percent to 6.5 percent target range in 2015 and 2016.
Inflation in mid-November entered the double-digit territory for the first time in 12 years. Analysts forecast inflation will decelerate to 6.64 percent next year.
Before it's here, it's on the Bloomberg Terminal.
LEARN MORE