Apps That Fight Your Parking Tickets
More than two dozen programs offer cheaper legal counsel.
By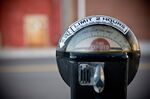 The average American spends about $232 on legal expenses each year, and many attorneys charge $175 to $550 an hour. Among other things, that means people don't hire counsel for minor offenses—only about 5 percent of U.S. traffic tickets are contested in court. "People are essentially priced out of lawyers," says David Houlihan, an analyst at technology-focused Blue Hill Research. Since last year, more than two dozen iOS and Android apps have popped up to try to price more people back in.
Like online pioneers LegalZoom and Rocket Lawyer, apps including GetDismissed, LegalTap, WinIt, and Fixed—the last specifically designed to fight parking and traffic tickets—promise users relatively cheap and easy legal counsel. Some offer brief chats with lawyers, others work on a contingency basis, and still others rely primarily on software that can detect potentially dismissal-worthy errors in legal paperwork. "These kinds of applications work to increase access and availability," Houlihan says. Some are also referring users to legal counsel in cases involving business incorporation, employment contracts, and other matters.
LegalTap, launched in June, charges $39 for a 15-minute chat with a lawyer. It's already set up about 1,500 such videoconferences with 55 attorneys. WinIt, released in March, has fought more than 10,000 parking tickets in New York and says it'll expand to traffic tickets and legal referrals within a year. GetDismissed, which went live in February, claims more than 1,000 clients "regularly" use its services.

Fixed, launched in San Francisco in May 2014, says it's beaten about 10,000 of 60,000 parking and traffic tickets in Los Angeles, New York, Oakland, and San Francisco. The app refers traffic tickets to local law firms—its go-to is California Traffic Defenders, which charges $150 for most tickets. For about a year, Fixed successfully used automated software to find errors in parking tickets that users uploaded using smartphone cameras, charging 35 percent of dismissed fines.
"Here's a service that makes it easy for people to get help," says Robert Amparan, an attorney at California Traffic Defenders. Amparan says his office usually gets 10 to 20 referrals a day in total. The first day his firm was linked on Fixed, the app sent him four.
Within five to seven years, apps stand to add about 15 percent in revenue to the slow-growing $25 billion legal-services market for consumers and small businesses, says Michael Rynowecer, president of BTI Consulting Group. Ariel Ovadia, a 33-year-old fashion designer in Manhattan who used WinIt to fight 10 tickets in the past six months, says he's been praising the app to anyone who'll listen. "It's got to be in my two, three favorite apps," he says, "because it saves me money."
LegalTap co-founder Billy Canu acknowledges the startup's business model doesn't exactly draw the busiest of corporate lawyers. "Obviously, if you are a big lawyer working on huge deals for Apple and Microsoft, this might not be a service for you," Canu says. "This is geared toward a lawyer who's a stay-at-home parent or wants to surf all day."
Some of the apps are struggling to fit in with established municipal services. Fixed has temporarily stopped processing parking tickets because, it says, San Francisco's payment-systems makers have been making it tough to challenge tickets using Fixed's company credit card or its IP address. "It now requires the majority of our engineering team to circumvent the blocking," says David Hegarty, Fixed's chief executive officer.
Paul Rose, a spokesman for San Francisco's Municipal Transportation Agency, says the MTA has staff on hand to help process Fixed submissions online or by hand, instead of directly through the payment software. "It becomes uneconomical for us," says Hegarty. So far, though, he hasn't turned to any of the other apps for help.
The bottom line: Using discount legal advice or algorithms, several new apps have helped beat thousands of parking tickets.
Before it's here, it's on the Bloomberg Terminal.
LEARN MORE