ANZ Bank Chairman Endorses CEO Mike Smith's Asia-Focused Vision
by
Bank should take advantage of what it established in region

New CEO Shayne Elliott to take over from Smith on Jan. 1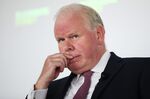 Australia & New Zealand Banking Group Ltd.'s chairman has endorsed the Asia-focused strategy set eight years ago by outgoing Chief Executive Officer Mike Smith, saying in an interview that the lender should take advantage of what it's established in the region.
"There is a requirement to take advantage of the great benefit of our settings" in Asia, David Gonski said by phone on Thursday, as he laid out his vision for the bank over the next three to five years. "Take from what we've been given from the previous management and make a business that has good returns and at the same time continue the good work to build a pan-Asia or transnational enterprise."
Nevertheless, incoming CEO Shayne Elliott will have to evaluate the Asian operations and decide whether to continue with businesses that don't meet the cost of capital, the chairman said. In Australia, Gonski said he sees the bank improving its business, including investing more to expand in New South Wales, the nation's largest state economy.
In the interview, Gonski outlined the priorities that Elliott, who is currently chief financial officer, will inherit when he takes Smith's job on Jan. 1. The Asian operations have dragged on profitability as growth in the region slows, while ANZ has been offering mortgage discounts to win more market share in New South Wales, where it lags behind larger rivals including Commonwealth Bank of Australia.
Trade Finance
ANZ has already taken steps to boost its return on equity in Asia. The bank cut about A$9 billion ($6.6 billion) of trade finance exposure in the region, it said Oct. 29, and plans to reduce its institutional loan book in the region. It's aiming to expand its less capital-intensive cash transaction business, which includes enabling cross-border payments, collections, and investment services for clients.
Net loans at its international and institutional banking businesses, comprised mostly of operations in Asia, fell by 1 percent in the six months ended Sept. 30, ANZ said in an Oct. 29 statement. That was the first drop since such disclosures began in 2012, filings show.
There are areas "where basically we are not receiving our cost of capital," Gonski said. Elliott "has to examine whether it is worth using capital for that," he said.
ANZ shares fell 2.5 percent to A$27.12 as of 11:02 a.m. in Sydney, extending this year's decline to 15 percent. The benchmark S&P/ASX 200 Index dropped 1.8 percent and is down 5.1 percent this year.
Internal Candidate
Elliott, who has been chief financial officer since 2012, is the first internal candidate chosen to lead the company since 1992. He joined ANZ in 2009 as its institutional banking head.
Elevating an internal candidate meant that the board "felt we were in a position where we were happy overall with the strategy that bank is taking," said Gonski. "That doesn't mean that the strategy doesn't need to be worked, be made flexible and so on, but on the other hand, what it does mean is the general direction, we are happy with that."
The bank's board regarded New South Wales as a "very good market" for further investment, said Gonski, who has previously served as chairman of the nation's stock-exchange operator. ANZ's historic underperformance in retail banking in the state was characterized as a "175-year-old problem" by Matt Boss, the lender's head of products and marketing, in a 2013 interview.
"We believe we can grow there both financially well and increase our weighting in the region," Gonski said.
Before it's here, it's on the Bloomberg Terminal.
LEARN MORE