Another Way for States to Get Federal Help
Alabama and Kansas game the Medicaid system to plug budgets.
By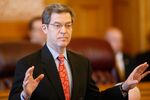 Sam Brownback is among the 19 Republican governors who have consistently refused extra federal dollars under the Affordable Care Act to expand Medicaid for the poor. A Tea Party darling, Brownback of Kansas also cut his state's income taxes three years ago, promising to make up the revenue through increased economic growth that never came. This year, facing a budget shortfall of more than $600 million, he decided to fill some of the gap using a strategy designed to draw more federal dollars to his state—through Medicaid.
Since its inception 50 years ago, Medicaid has been managed by states but jointly funded with the federal government, which matches state contributions at least dollar for dollar. States are allowed to cover some of their portion by collecting taxes from Medicaid providers, such as nursing homes and managed-care organizations. That tax revenue allows a state to increase its contribution and attract more federal matching money. In Kansas, Brownback tripled the tax on managed-care groups, to 3.1 percent, and increased state spending by $33.4 million. With a federal match of $1.27 for every dollar Kansas spent, the gambit netted the state a bonus $47 million for its general fund. "This is the first time that I know of that they did this specifically to fill a budget hole, a hole that we created ourselves," says Laura Kelly, the state's Democratic Senate minority whip. A spokeswoman for Brownback declined to comment.
Forty-nine states charge provider taxes, more than double the number that did so a decade ago, according to the Kaiser Family Foundation, which studies public health-care funding. Six states increased provider levies in 2014, and 11 more proposed increasing them this year, according to the National Association of State Budget Officers.
Provider taxes generated $19 billion in 2012, up from $9.7 billion four years earlier, according to a 2014 report from the U.S. Government Accountability Office. In California, a 2011 nursing-home tax coupled with a hike in reimbursements increased the federal Medicaid match by $80 million. Nursing homes were paid $69 million more, thanks to the higher reimbursements—even after paying the state tax. Illinois cut $5 million from state spending, increased the federal government's Medicaid outlay by $110 million, and netted nursing homes an additional $105 million using the same tactic. "The reality is that these are now part of the fabric of funding Medicaid," says Judith Solomon, health policy vice president at the Center on Budget and Policy Priorities, a Washington think tank. "If you curb them, you are talking about cuts."
In Alabama, desperate lawmakers hiked taxes on nursing homes at the 11th hour to balance the budget in September. Most homes "will actually pull down more federal dollars this way," Republican Mack Butler, a state representative, said in a statement at the time. Lawmakers in the Republican-controlled legislature came up with their nursing-home tax idea after months of disagreement with Governor Robert Bentley, also a Republican, who'd proposed sweeping tax increases to balance the budget. All but three of the state's 228 nursing homes paying the higher tax will benefit from offsetting state and federal Medicaid dollars. "Nobody wants to pay more taxes," says Alabama Nursing Home Association spokesman John Matson, "but knowing the serious shortfall in the state, we wanted to step up."
The bottom line: States are filling budget gaps by finding ways to draw more money from the federal Medicaid reimbursement pot.
Before it's here, it's on the Bloomberg Terminal.
LEARN MORE