'Tough Guys': Why Putin, Erdogan Can't Back Down in Plane Spat
by , , and
Turkey's concilatory steps short of the apology Putin demands

Putin had cultivated ties with leader he saw as natural ally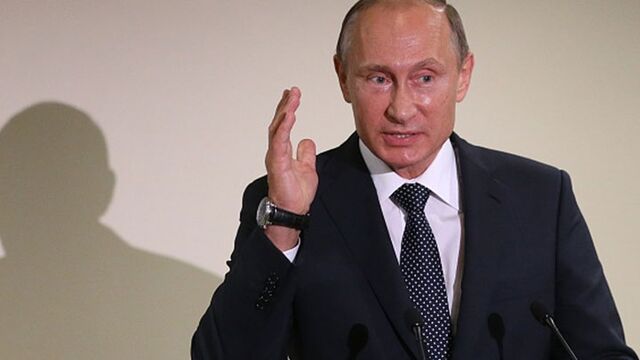 Vladimir Putin and Recep Tayyip Erdogan once bonded over their tough, independent styles of rule. Now, those alpha-attributes are stoking the crisis that erupted when a Turkish warplane locked onto a Russian bomber and shot it down.
The Russian president on Thursday stepped up his increasingly personal attacks. "Allah decided to punish the ruling clique in Turkey by depriving them of reason and common sense," he said in his annual state-of-the-nation address. "They will regret again and again what they've done."
Erdogan has threatened a harder line.
"If these reactions continue, of course we're going to be left with no option but to take countermeasures," Erdogan said Wednesday on a visit to Qatar, where he discussed alternatives to Russian natural-gas supplies.
The combustible mix makes the showdown between Putin and the commander-in-chief of NATO's second-largest military unpredictable. Both sides have ruled out further armed confrontation, though they've threatened to attack anything they see as a threat in the crowded skies over Syria. Their foreign ministers met at a summit on Thursday in Belgrade, but there was no word of any progress as of 6:30 p.m. in Istanbul.
'Very Proud'
Senior officials on both sides say the volatile, sometimes impetuous personalities of the leaders complicate reaching a compromise because neither wants to be seen to be giving in.
"These are two very proud individuals who have fought their way to the top, and both see themselves as winners," said Charles Robertson, global chief economist at Renaissance Capital in London. "I'd be surprised if Turkey accepts Putin's retaliation without any response."
The conflict has set back Russia's hopes of forging a broad coalition, highlighting differences between the Kremlin, which backs Syrian President Bashar al-Assad, and Turkey and its western allies, which are pushing for his ouster. At the same time, the breach with Russia also seems to be pushing Erdogan closer to the U.S. and the European Union after years of stalemate in Turkey's EU accession process.
Both Putin, 63, and Erdogan, 61, have ruled for more than decade and been criticized for autocratic tendencies, as well as their unwillingness to back down under pressure. Both have drawn comparisons to their imperial predecessors -- czars and sultans -- with their calls for reasserting national glory. Both invested in building what appeared to be a special relationship based on that bond.
Kindred Spirits
The Russian leader saw in Erdogan a kindred spirit, conservative, nationalist and unwilling to give in to pressure from the U.S. or the EU, two senior Russian officials said. 
Putin spent years cultivating the relationship with meetings and trade deals, last year going as far as to propose making Turkey a major gateway for Russia's vital gas exports to Europe. Erdogan talked about joining Moscow-led trade and security blocs.
"We were ready to go further than their allies wanted to," Putin said Thursday.
For Erdogan, the relationship was a counterweight to the EU. Just a year ago, he hosted Putin at his new palace in Ankara. Putin around that time called him a "tough guy" for refusing to join western sanctions on Russia imposed over the Ukraine crisis.
The Syrian conflict cracked that unity. Tensions exploded shortly after the Russian bombing campaign began on Sept. 30, shoring up Assad's army and violating Turkish airspace. Erdogan's anger grew as Russian planes targeted ethnic-Turkish rebels fighting Assad's forces just across the border in Syria.
Ties 'Destroyed'
After the Russian jet was downed -- killing the pilot in the Kremlin's first losses in its Syria campaign -- Putin was particularly disappointed that Erdogan called NATO first, rather than the Kremlin, according to a senior Russian official. A Turkish official couldn't immediately comment on the timing of the calls.
"They destroyed the house that we'd worked for 10 years to build," said Andrey Klimov, deputy chairman of the International Affairs Committee in the upper house of Russia's parliament. "Either they change their position or we'll have to wait for a new leadership" in Turkey, he added. Russia beefed up air defenses at its airbase in Syria after the downing and imposed sweeping restrictions on trade and business with Turkey.
Turkey's leadership tried some conciliation early this week, returning the body of the Russian pilot with military honors.
Russian officials say that's not enough. "We haven't seen any apology or any desire to punish those who are guilty" for the downing of the plane, said Klimov.
'Long Memory'
Russia's Defense Ministry Wednesday presented satellite videos and maps it said proved Turkey's complicity in the oil trade with Islamic State. Referring to the "awful crimes of the Turkish elite, which is directly financing international terrorism," Deputy Defense Minister Anatoly Antonov upped the pressure in a backhanded way. "We're not seeking Erdogan's ouster. That's a matter for the Turkish people."
Erdogan has vowed to resign if the charges are proven and called on Putin to quit if they aren't. Thursday, he said his government has evidence of a Russian citizen's involvement in the oil trade with Islamic State.
"Erdogan has a very long memory and the relationship will struggle to recover from this," said Tim Ash, credit strategist at Nomura International Plc.
Before it's here, it's on the Bloomberg Terminal.
LEARN MORE