China's Xi Pledges $6.5 Billion to Support S. Africa Economy
by and
Rail operator Transnet receives $2.5 billion credit line

Finance deal to help electricity utility to finish plants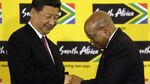 China signed 26 agreements pledging to invest 94 billion rand ($6.5 billion) to support South Africa's flagging economy and its own exports to the nation, as President Xi Jinping met with counterpart Jacob Zuma ahead of a summit this week with leaders from across the continent.
The deals include a $2.5 billion credit line provided by China Export & Credit Insurance Corp. to South African rail and transport operator Transnet SOC Ltd. for electrical and mechanical equipment, and a $500 million China Development Bank loan-finance accord that will help electricity utility Eskom Holdings SOC Ltd. to complete its power plant construction plan.

The agreements were signed Wednesday in Pretoria, the capital. Xi arrived earlier in the day from neighboring Zimbabwe, where he had held talks with the country's leader, Robert Mugabe, and signed aid deals for projects ranging from power to infrastructure.
'Best Shape'
"Our two countries complement each other strongly economically," Xi told reporters after the signing ceremony. "Our cooperation on international affairs is becoming ever closer. China-South Africa relations are in the best shape ever."
Xi is on a five-day African visit that includes the Forum on China-Africa Cooperation with leaders from across the continent in Johannesburg on Friday and Saturday. Chinese commerce with Africa reached $220 billion last year, making it the continent's biggest trade partner. One of the agreements is aimed at synchronizing discrepancies in trade statistics.
The Chinese Ministry of Commerce said last month that the country's investment in Africa fell by more than 40 percent in the first half of 2015.
Beijing Automotive Group Co. will invest as much as 11 billion rand in what could become the biggest car plant in South Africa, Geoffrey Qhena, the chief executive officer of South Africa's Industrial Development Corp., said in an interview. Production may start at the end of 2017, with some of the cars probably being exported to other parts of Africa, he said.
Renewable Energy
South Africa's Standard Bank Group Ltd. agreed with Industrial & Commercial Bank of China Ltd. to raise 10 billion rand in funding for investment in South Africa's power and infrastructure projects over the next five years, according to a statement. ICBC owns 20 percent of Johannesburg-based Standard Bank.
Zuma said there was room for China to invest in South Africa's energy sector, particularly in renewable energy like wind, solar and hydropower projects. He didn't mention the nation's plan to build new nuclear power plants, for which Chinese companies may be competing. A nuclear agreement between the countries focused on training project managers.
Investec Plc and the Export-Import Bank of China agreed to develop a "long-term" business relationship, focusing on export finance and project finance, as well as the "internationalization" of the Chinese yuan and "its use as a settlement currency in trade," according to the statement.
Before it's here, it's on the Bloomberg Terminal.
LEARN MORE