U.K. Begins Syria Airstrikes After Parliament Backs Cameron
by and
House of Commons votes 397 to 223 in support of Cameron plan

Opposition Labour Party splits over whether to back bombing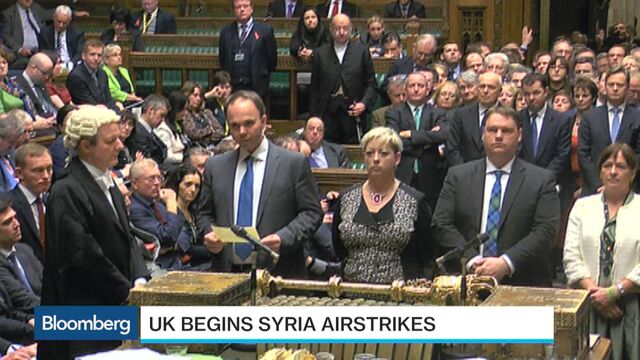 The U.K. carried out its first airstrikes on Islamic State in Syria, after lawmakers voted to support the government and approve military action in a parliamentary vote that highlighted the deep splits in the opposition Labour Party.
The strikes came hours after the House of Commons in London voted 397 to 223 in favor of a motion by Prime Minister David Cameron's government authorizing action late on Wednesday. Supporters of airstrikes argued during more than 10 hours of debate that Britain should answer the call of allies including France and the U.S. to join attacks on the extremist group. Opponents said the U.K. had little to add and would be more likely to be a target for terrorists if it joined attacks.
Defence Secretary Michael Fallon said Thursday that Royal Air Force Tornado jets had returned after conducting an offensive in eastern Syria, where they attacked oil facilities -- the Omar fields -- controlled by the extremists. Four jets took off from a base in Cyprus shortly after the vote.
"The terrorists depend for their revenue on their control of oil," Fallon, who said Britain will be doubling its strike force to include Typhoon jets, told ITV's Good Morning Britain show. Following the vote, Islamic State supporters ramped up online threats against the U.K. and other Western countries, according to the SITE Intelligence Group.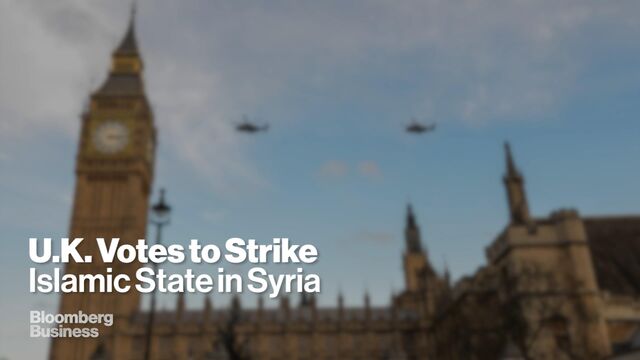 The vote, which was welcomed by U.S. President Barack Obama, has enabled the U.K. to join nine nations from Australia to Jordan that have bombed Islamic State in Syria. Domestically, it further bolsters the prime minister as he confronts an opposition that is divided.
During the debate, the best received speech came from Labour foreign-affairs spokesman Hilary Benn, ending the debate by taking the opposite side of the argument from his leader, Jeremy Corbyn, a career-long opponent of military interventions. He invoked Labour's long history of fighting fascism, arguing that Islamic State, also known as ISIL, represented a similar force.
"They hold us in contempt, they hold our values in contempt, they hold our belief in tolerance and decency in contempt, they hold our democracy -- the means by which we will make our decision tonight -- in contempt," Benn said, as Corbyn sat in silence beside him. "And what we know about fascists is that they need to be defeated. We must now confront this evil."
Applause and Cheers
Benn sat down to applause -- forbidden in the chamber -- and cheers both from his own side and from Cameron's Conservatives. It was reported that 66 of Labour's 231 lawmakers voted for bombing.
"Sometimes the greatest oratory can lead us to the greatest mistakes," Labour's economy spokesman, John McDonnell, told BBC Radio 4. "I don't believe bombing is the right answer, but we are now engaged in war and I wish our pilots safe home."
The prime minister had opened the debate by saying that the attacks on Paris last month had shown the extent to which terrorism was being directed from within Syria. Britain's Royal Air Force has surveillance equipment and precision missiles that other militaries lack, he said.
"The threat is very real," the prime minister said. "The question is this: do we work with our allies to degrade and destroy this threat?"
Free Vote
The government was on course to win the vote from the moment Corbyn abandoned an attempt to force his lawmakers to vote against. That meant the crucial events of the week took place on Monday, at a closed-door meeting when Benn and other members of the shadow cabinet faced Corbyn down and made him agree to a free vote.
In Corbyn's response to Cameron, he argued public opinion was moving in his direction.
Other senior members of his party disagreed. "I find this decision as difficult as anyone to make," former Labour Home Secretary Alan Johnson, who backed the motion, said before taking a swipe at supporters of Corbyn whom he said had been bullying lawmakers to oppose the strikes. "I wish I had the self-righteous certitude of the finger-jabbing representatives of our new and kinder politics."
Apology Urged
Cameron was asked multiple times to apologize for reported remarks to Conservative lawmakers late on Tuesday that those who disagreed with him would be voting alongside "terrorist sympathizers." Corbyn and McDonnell, were supporters of Sinn Fein, the Irish Republican Army's political wing, while the IRA was carrying out its bombing campaign during the 1980s. Corbyn said the comments "demean" the office of prime minister.
"I respect the fact that we're all discussing how to fight terrorism, not whether to fight terrorism," Cameron told Parliament. "There's honor in voting for, there's honor in voting against."
The splits weren't just in Labour. Julian Lewis, a lawmaker from Cameron's Conservative Party who heads the House of Commons Defence Committee, said he would join those voting against an extension of bombing. He ridiculed Cameron's argument that there were 70,000 moderate Syrian fighters on the ground ready to press the advantage provided by a bombing campaign.
"Instead of a dodgy dossier," he said, in reference to former Labour Prime Minister Tony Blair's assertion that Saddam Hussein had weapons of mass destruction before the invasion of Iraq, "we now have bogus battalions."
Britain should prepare for a long campaign of "degrading and squeezing the terrorists in their own heartland," Fallon told the BBC.
"We'll know we've done it when we've finally degraded and defeated this terrorist menace," he said.
Before it's here, it's on the Bloomberg Terminal.
LEARN MORE