Is Big Oil the New Big Tobacco?
By
Years-long campaign aimed at oil companies' political standing

`They are not so invincible as they thought': McKibben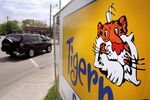 A cartoon circulating on Twitter carries a warning for the oil industry.
There's Joe Camel, retired tobacco spokes-animal, suave as ever in a tuxedo, cigarette dangling from his smiling snout. In his hand, a pack of smokes with a twist -- an Exxon Mobil Corp. logo on the wrapper. "Big Oil: The New Big Tobacco," reads the caption.

Activists have been urging investors for years to pull money out of the fossil-fuel producers blamed for much of the world's warming. Joe Camel's new role shows the movement has an even broader target: not just the industry's money, but its reputation. With envoys gathered in Paris this week for a United Nations summit on climate change, there are signs -- from coal-plant closures to the death of the Keystone XL pipeline -- that the effort is bearing fruit.
"That pariah status is growing," Bill McKibben, a founder of climate advocacy group 350.org, said in an interview. "The fossil-fuel industry remains incredibly strong -- they are super-rich -- but they are not so invincible as they thought they were."
The Paris talks got under way Monday with more than 150 world leaders vowing to speed the world's shift away from fossil fuels. In one of the opening acts, the U.S. and about 40 other countries pledged to cut billions of dollars in industry subsidies. Insurers, cities and other investors controlling more than $3.4 trillion in assets have pledged to keep some or all of their money out of fossil-fuel companies -- a high-water mark for the divestment movement, McKibben's group said in Paris on Wednesday.
Legal Front
New York State Attorney General Eric Schneiderman has opened another front with an investigation into whether Exxon misled investors by supporting groups that question the danger of climate change, even as its own scientists briefed executives on the risks. Schneiderman has subpoenaed documents from Exxon, the world's biggest oil explorer, dating back to the 1970s, according to a person familiar with the probe.
Those allegations inspired the Joe Camel cartoon and an #ExxonKnew campaign that's burgeoned online in the run-up to Paris.
Scott Silvestri, an Exxon spokesman, said allegations the company suppressed climate research are "inaccurate distortions." Exxon has worked with government and academics to develop climate science "in an open and transparent manner" for more than 40 years, he said in a phone interview. That includes some 150 public research papers, he said.
Exxon acknowledges the risks of climate change and sees calls for divestment as "a diversion," Silvestri said. "In view of the monumental scale of the world's energy needs, solutions are not easy and they're going to take time, huge investments and thoughtful policies."
Risk Premium
Exxon and oil-industry peers have softened their stance on greenhouse-gas limits over the years. The company now supports a carbon tax and, like rivals, has invested in more climate-friendly natural gas.
The prospect of widening investigations may still add a risk premium to fossil-fuel stocks, said Gregory Elders, a Bloomberg Intelligence analyst.
"Even if proving wrongdoing is unlikely, the damage may be the uncertainty cast over coal, oil and gas," Elders wrote in a Nov. 9 report. Energy and utility stocks have been the worst performers this year, he said. Moreover, the challenge is more comprehensive than in the case of tobacco, since divestment campaigners are arguing for the end of an industry rather than just a more tightly regulated one, Elders said in an interview.

The list of investors committed to keeping out of fossil-fuel companies has grown in the last year to include French insurance giant Axa SA, Norway's $900 billion sovereign wealth fund, the Church of England and California's state pension funds.
While such pledges probably have little impact on companies' financial health, they contribute to a political climate that's getting stormier for fossil fuels, said Katie Bays, an energy specialist at Height Securities in Washington.
Companies that burn or mine coal have faced the most pushback, with power stations shuttered by new regulations or lawsuits.
'Sea Change'
"You've gotten these incremental changes because of the political sea change that we're seeing," Bays said.
Divestment gathered steam after a low-point for U.S. climate advocacy in 2010, when Congress killed a cap-and-trade bill supported by President Barack Obama. Activists decided they needed to challenge the industry's legitimacy, not just push legislation. They took inspiration from the anti-apartheid movement of the 1980s, as well as the tobacco wars, McKibben said.
"The financial community increasingly understands we're entering a new realm for fossil fuels where it is a dangerous asset and past performance is no guide to its future prospects," he said. "The message was that on rare occasions, there are some companies that go rogue and those companies have to be treated differently."
In the U.S., a decades-long anti-tobacco campaign culminated with a legal settlement in 1998 between 46 states and the biggest cigarette makers, which required the companies to pay at least $206 billion to cover public health costs. Nine years later, a federal court found the industry guilty of a "massive, 50-year effort to defraud the public" by hiding the dangers of smoking, and ordered new warnings on tobacco products.
Public Opinion
Tobacco stocks mostly shrugged off the assault, helped by growing sales in developing countries. Since the 2006 judgment, Philip Morris parent Altria Group Inc. and R.J. Reynolds' parent have seen their shares almost triple -- while the Standard & Poor's 500 Index gained about 60 percent.
By another metric -- public opinion -- the case against tobacco has hit home. Polls suggest mixed results for U.S. climate campaigners on that front. Two-thirds of Americans see global warming as a serious problem and about half, 47 percent, say the government should do more about it, according to a Nov. 30 Washington Post-ABC News poll. But both figures have declined in the past few months.
Meanwhile, the oil industry's approval ratings have edged higher in recent years as gasoline prices fell. Still, 47 percent have a negative view of it, according to an August survey by Gallup.
Only the federal government had a lower rating.
Watch Next: A Brief History of Global Warming