The 2 Cent Fine India's Telecom Tycoons Say May Cost $8 Billion
by and
India to fine companies for calls that disconnect unexpectedly

Policy may further crimp the margins of wireless operators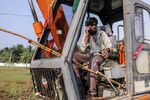 India is pressing ahead with an unprecedented plan to fine wireless operators one rupee (2 cents) from Jan. 1 for calls that unexpectedly disconnect mid-conversation, rejecting claims the step could cost the industry as much as $8 billion a year.
The levy, limited to three calls -- or 3 rupees -- a day per user, will be credited to customers for poor service, said R.S. Sharma, the chairman of the Telecom Regulatory Authority of India. Networks are straining as investment hasn't kept up with surging voice and especially data traffic, he said.
"There are many quality of service issues," Sharma said in an interview in his office in New Delhi, adding that companies "are tuning their networks to cater to data, creating scarcity in the voice segment."
 
The regulator estimates the total annual fine would be less than $120 million a year -- a fraction of the industry's $22 billion revenue. On the other hand, the body representing operators such as billionaire Sunil Mittal's Bharti Airtel Ltd. and Vodafone Group Plc's local unit says it would cost about $8 billion, if half of India's 1 billion mobile subscribers claim 3 rupees a day.
"I'm not aware of this occurring in any other country," said Chris Lane, a senior research analyst at Sanford C. Bernstein & Co. in Hong Kong. "A lack of spectrum is the major reason for the dropped calls, and the government's policy of 'drip feeding' spectrum to assure high auction prices is a major contributor to the problem."
Poor Service?
The government's most recent auction of wireless airwaves concluded in March, raising a record 1.1 trillion rupees from India's indebted mobile-phone industry. Such spending, together with fierce competition that curbs tariffs, is putting pressure on profit margins.
Even so, subscribers have to be compensated for poor service, Sharma said in the Nov. 19 interview, adding they will only get the payments if "the call drops due to the deficiency of the originating service provider."
The industry trade body, the Cellular Operators Association of India, said the regulator's estimate of the fine's impact may fail to include subscribers who try to "game the system."
"Calls deliberately made from bad coverage areas, from basements, elevators, or when the battery is disconnected or the phone is on airplane mode, will reflect as dropped calls," said Rajan Mathews, the director general of the association. "There is no way for operators to identify such calls. All we'll know is that a call dropped."

A better approach would be to encourage operators to invest in infrastructure, such as more mobile-phone towers, Mathews said.
Annual compensation for dropped calls may range from about 108 billion rupees if a tenth of subscribers claim it, to 271 billion rupees if a quarter do, rising to 541 billion rupees if half of users take the step, according to the association. The trade body in October estimated yearly industry revenue at 1.47 trillion rupees.
The regulator puts the number of so-called dropped calls at 8 billion a year. Compensation for all of them would come to about $120 million. But the payments are capped at three calls daily, which the regulator argues would substantially reduce the actual amount paid.
Fines loom even as operators struggle to maintain profitability. The net income margin at Bharti Airtel shrank to 5.6 percent in the year ended March from 21.5 percent in 2010, according to data compiled by Bloomberg. The measure for billionaire Anil Ambani's Reliance Communications Ltd. dropped to 3.3 percent from 22.5 percent.
The pressure shows in the performance of telecommunications stocks. The 13-member S&P BSE Telecom index has climbed 42 percent in the past decade through November, while the benchmark S&P BSE Sensex index has tripled in the same period.
Earnings Impact
Operators with the largest subscriber base are most exposed to the planned fines, though the probable financial impact of the levies remains unclear, said Naveen Kulkarni, an analyst at PhillipCapital India Pvt. in Mumbai.
The total cost for the four largest carriers -- Bharti Airtel, Vodafone, Idea Cellular Ltd. and Reliance Communications -- is set to be about 23 billion rupees annually, New Delhi-based rating company ICRA Ltd. estimated last month.
That could lower earnings before interest, taxes, depreciation and amortization by 3 percent to 5 percent, though uncertainty about the penalty lingers, ICRA said.
"Money is the best language," Sharma from the regulatory authority said. "You can't short-change customers."
Before it's here, it's on the Bloomberg Terminal.
LEARN MORE