Options Drought in Europe Shows ECB Moves Are Already Priced In
by , , and
Options trading fell to its lowest level in more than a year

VStoxx is still higher than the VIX of U.S. stock volatility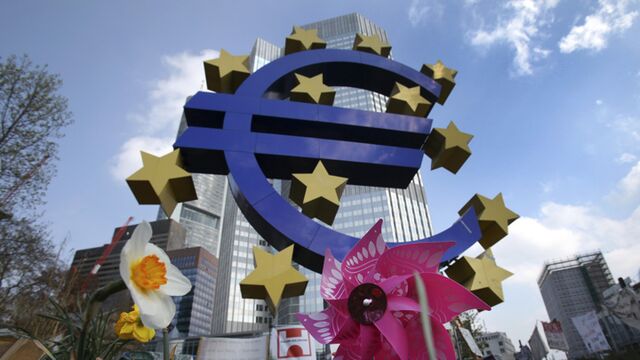 With the European Central Bank meeting due tomorrow, you'd think investors would be busy protecting against possible stock moves. You'd be wrong.
November saw the lowest volume of Euro Stoxx 50 Index options since July 2014. That's a sign investors aren't worried that the ECB will shock the market at its meeting, says B Capital's Lorne Baring. Bets that President Mario Draghi will announce plans to expand quantitative easing have already lifted the region's stocks to a three-month high and more jolts are unlikely, he says.

"There's a bit of complacency in the market," said Baring, a fund manager who helps oversee $500 million at B Capital in Geneva. "The probabilities are strong enough. There's no need to buy protection."
Economists polled by Bloomberg unanimously forecast an increase in stimulus measures at tomorrow's meeting, with more than two-thirds projecting an extension of QE past 2016, an increase in purchases and a further cut in the deposit rate.
The optimism pushed the Euro Stoxx 50 up 15 percent from its low in September. On Oct. 22, when Draghi signaled that the central bank will consider additional stimulus measures at this month's meeting, the index posted its biggest rally after any ECB gathering since July 2013. The gauge slipped 0.3 percent on Wednesday.
"The possibility of surprise is very, very low," said Guillermo Hernandez Sampere, who helps manage about 250 million euros ($266 million) as head of trading at MPPM EK in Eppstein, Germany. "Why should I bet on something that is by now actually priced in? I wouldn't be surprised if we have a buy-the-rumor sell-the-fact event on Thursday."
About 912,000 Euro Stoxx 50 options changed hands each day on average last month, below the mean of 1.3 million for all of 2015.
With little demand for hedging, protection costs have dropped, and a gauge tracking euro-area stock volatility has tumbled 42 percent since its high in August. Yet it hasn't fallen as much as the U.S.'s Chicago Board Options Exchange Volatility Index, down more than 60 percent in the same period.
To Steve Sosnick of Timber Hill, the discrepancy reflects the staggered event risk stemming from the two highly-anticipated central bank decisions, with the Federal Reserve's coming on Dec. 16.
"Because volatility is an expensive, perishable commodity, people try to time their buying," said Sosnick, an equity risk manager at Timber Hill, the market-making unit of Greenwich, Connecticut-based Interactive Brokers Group Inc. "That would be a logical explanation for the volatility difference between the U.S. and Europe."
For now, the bets in place give little insight into the positioning. The most-owned Euro Stoxx 50 option is one that bets on a 3.5 percent advance by Dec. 18, and the next four are all bearish.
"Options are inherently a volatility strategy, so when the volatility is low and everything has been baked into the cake as such, you're not really going to get that much business," said Gareth Ryan, managing director of IUR Capital Ltd., a firm that specializes in options strategies. "If we don't get a move on Thursday, I think we'll get a big reaction to the downside."
Before it's here, it's on the Bloomberg Terminal.
LEARN MORE