Merkel Pledges to Confront Anti-Semitism Among German Refugees
by
Chancellor says she always takes Jewish concerns seriously

All arriving in Germany have to respect the law, she says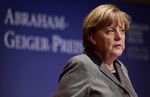 Chancellor Angela Merkel said anti-Semitism has no place in modern Germany, including among the record influx of refugees arriving this year.
Addressing concern voiced by Germany's Jewish community that asylum seekers from Syria and other Muslim countries may spread hatred of Jews, Merkel said "people have to respect our laws and our constitutional order wherever they may come from."
"That includes rejection of any form of anti-Semitism," she said Wednesday in a speech at the Jewish Museum in Berlin, where she received a German rabbinical school's award. "I will always take it seriously when you express your concerns about anti-Semitism."
Representatives of the Central Council of Jews in Germany told the chancellor during a meeting in October that they fear refugees may foment anti-Semitism. Merkel's government says at least 800,000 people will seek asylum in Germany this year, including many fleeing Syria's civil war, and some officials say the number may reach 1 million or more.
Merkel signaled she won't heed the German Jewish community's demand for a cap on arrivals, saying "we truly don't always need to agree which concrete measures" are needed to cope with the refugee influx.
Still, Germany will counter anti-Semitism "with the full force of the law," including the kind "that comes in the guise of alleged criticism of Israeli policy."
Before it's here, it's on the Bloomberg Terminal.
LEARN MORE