McDonald's Said to Face EU Probe Into Luxembourg Tax Deals
By and
EU may open state aid investigation as soon as tomorrow

Amazon, Apple tax deals also being investigated by EU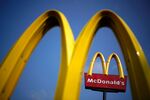 McDonald's Corp. faces a European Union investigation into its fiscal arrangements with Luxembourg, weeks after regulators ordered Starbucks Corp. and a Fiat Chrysler Automobiles NV unit to repay millions of euros of unfair tax subsidies, according to two people familiar with the case.
The European Commission is poised to open a formal investigation as soon as Thursday into whether Luxembourg breached state-aid rules, said the people, who asked not to be named because the process is private. The move would escalate its probe into sweetheart tax deals for companies across the EU that's also embroiled Apple Inc. and Amazon.com Inc.
"McDonald's complies with all tax laws and rules in Europe and pays a significant amount of corporate income tax," Becca Hary, a spokeswoman for the Oak Brook, Illinois-based company, said in an e-mail. "While we have not been notified by the European Commission, we are confident that should an inquiry occur, it would be resolved favorably."
Big Mac
The Big Mac maker's tax affairs have come under scrutiny amid a global crackdown on corporate tax-avoidance as governments struggle to increase revenue and reduce deficits. The company's French offices were inspected by the country's fiscal authorities in 2013 and the EU inquired about McDonald's taxes in Luxembourg, people familiar with the matter said last year.
The Grand Duchy may have approved hundreds of tax deals for multinational corporations. Leaked documents revealed last year that more than 340 companies such as PepsiCo Inc., Ikea Group and FedEx Corp. transferred profits to the country through tax arrangements.
The McDonald's case is the third to focus on Luxembourg, adding to the probe into Fiat and Amazon. Apple's tax deals with Ireland are also being examined by the EU, while Starbucks was told to pay back taxes to the Netherlands.
McDonald's paid corporate tax of more than $2.1 billion in the European Union from 2010-2014, with an average tax rate of almost 27 percent, Hary said, on top of social, real estate and other taxes. Independent franchisees, who operate some 75 percent of McDonald's European restaurants "also pay corporate tax and many other taxes."
The commission in Brussels and the Luxembourg finance ministry declined to comment.
The Wall Street Journal earlier reported on the investigation.