Macau's Casino Middlemen Squeezed by China's Delinquent Debtors
By and
Monthly VIP wagers fall more than two-thirds from 2013 levels

More than 30 VIP rooms closed in past four months, group says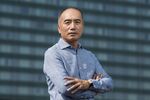 Macau's gaming promoters, who loan money to Chinese high-rollers for gambling in the city's struggling casinos, increasingly find themselves in a new line of business: debt collection.
The so-called junket operators, who use personal connections to lure high-stakes players to the city's baccarat tables, are collecting only 20 percent to 30 percent of their debts, said Kwok Chi-chung, president of Macau's Association of Gaming & Entertainment Promoters. In 2013, 70 percent of loans were repaid promptly, he said.
That was before China introduced curbs on illicit money flows and began a campaign against corruption that deterred VIP players, setting Macau's casino industry on an 18-month-long downward spiral. High-rollers' wagers have plummeted at least 70 percent to about HK$200 billion ($25.8 billion) a month since 2013, according to Kwok, reflecting a plunge in VIP numbers and a diminishing junket cash pool from which they can borrow.
"Getting the money back is a bigger challenge now for junkets than before,'' Kwok, 60, said in a Nov. 23 interview from his 15th-floor office in Macau, which offers unblocked views of the city's casinos. "With a longer payback period, junkets have less money to lend to new customers, and the business size is shrinking accordingly."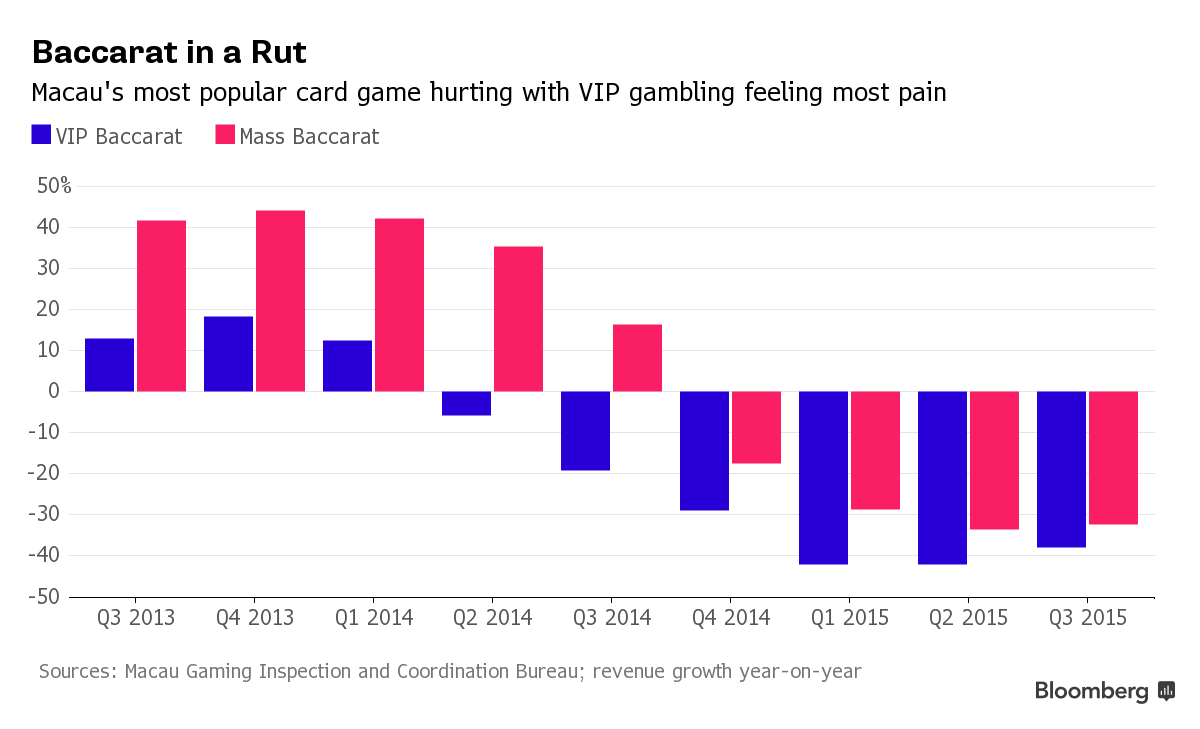 Under pressure from the government in China, authorities in Macau have imposed tougher smoking restrictions in casinos and plan to make junkets adhere to stricter accounting standards, including a requirement to submit monthly financial records and to carry out background checks on senior finance staff.
Stolen Money
The changes follow incidents that exposed flaws in the uniquely Macanese industry. Junket operator Dore Entertainment said in September that some of its customers may have been cheated by a former cage manager who is suspected of stealing at least HK$100 million from it. Last year, the disappearance of a Macau middleman left investors struggling to recoup more than HK$10 billion.
The events prompted some investors to withdraw funds from junkets, said Tony Tong, co-founder of Pacific Financial Services Ltd., a Hong Kong-based firm whose services include debt-collection and risk management.
It's now harder for VIPs to borrow cash for betting with, and for those who don't repay their loans, junkets have no legal avenue to recover the money in China as gambling debt is illegal on the mainland, he said. Junkets are now waiting a year to 18 months to get their money, compared with one to six months in the past, according to Tong, who had previously invested in junkets.
'Begging and Hassle'
"It's very difficult for junkets to collect debt in China," Tong said, estimating that as much as 50 percent of all credits to high-rollers are not fully paid when they're due, and collection often requires "a lot of patience, begging and hassle."
To cut their losses, junkets are now trying to come up with creative solutions, including packaging bad debts and distressed assets and selling them to third-party financial investors at a discount, he said.
Dwarfing the Strip
The problem resonates across Macau, the only place where casinos are legal in China. With 36 the licensed gambling halls, the former Portuguese colony supported a gaming industry about five times larger than the Las Vegas Strip in the first 10 months of the year. 

Junkets, and the high-rollers they lure, have been integral to that growth. Offering returns of as much as 36 percent a year, these businesses are financed by corporate investors and wealthy residents of Macau and mainland China, providing cash that's lent at high interest rates to VIP customers for gambling in the city's casinos. Commissions are earned from casinos as a reward for bringing them high-stakes bettors.
Covert Operations
With the junket business illegal in China, these middlemen are forced to conduct their business covertly in the mainland or work from Macau, where they can obtain a license to work legally. The territory had 183 licensed gaming promoters as of the beginning of 2015, down from 218 last year, according to the Gaming Inspection and Coordination Bureau.
Long reliant on personal connections and opaque networks to obtain business, junkets are renowned for eschewing paper trails and transparent accounting in providing discreet services.
Junket services can extend to arranging private jets and limousine transfers, to booking five-star hotel rooms, according to Suncity Group, Macau's biggest junket operator, according to its website.
To stem ballooning debts, the Association of Gaming & Entertainment Promoters has called for the Macau government to authorize the dissemination of a blacklist that members could use to identify bad debtors, said Kwok. A law graduate, he joined the Macau Judiciary Police in 1985 and managed its gaming-related crimes, economic crimes and anti-money laundering divisions until his retirement from the force in August 2010.
Credit Bubble
Junket operators may have themselves to blame for their debts. In previous years, some of them extended gaming credit to less credit-worthy players, Vitaly Umansky, a gaming analyst with Sanford C. Bernstein wrote in a Nov 24 report. That created a bubble that's now burst.
Casinos have shuttered or removed 30 up-scale rooms dedicated to high-stakes gamblers over the past four months alone, Kwok said. "It's now an adjustment period for junkets,'' the association leader said. "More VIP rooms will be shut. Quality will become the priority when it comes to lending, rather than quantity.''
The test will come in February, he said, when Chinese celebrate Lunar New Year -- a time when people traditionally settle debts.
"If there's still much debt uncollected, the liquidity will be too tight for some junkets to survive and we'll see more closures," Kwok said. "Macau won't return to the heyday."
That might not be a bad thing, according to Bernstein's Umansky. "Longer term, we believe the consolidation in the junket industry would actually be helpful, as it would create more liquid and professional junket operations," he said.