Knighthead's Wagner Says Puerto Rico Lacks Will to Repay Debts
by
Puerto Rico crisis not `an ability to pay problem,' he says

Commonwealth should seize chance for reforms, Wagner says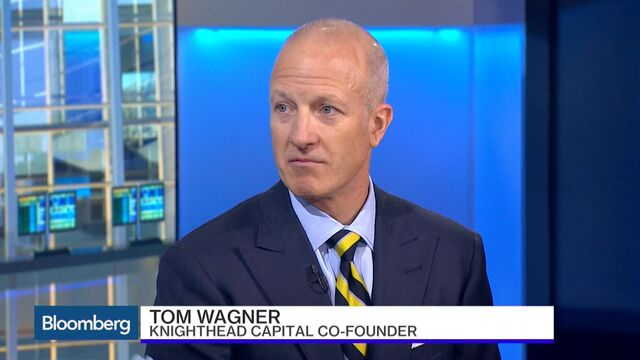 Puerto Rico, which is running out of cash and narrowly averted its first major default on Tuesday, should be able to repay investors, said Tom Wagner, co-founding partner of hedge fund Knighthead Capital Management.
The per-capita debt burden of the commonwealth, which owes about $70 billion, is lower than that of U.S. states, when adding in U.S. residents' share of the national debt, said Wagner, whose fund owns securities issued by Puerto Rico's electric company.
"It is a structural problem," Wagner said during an interview on Bloomberg Television. "It's a willingness to pay problem, not an ability to pay problem."
Puerto Rico Governor Alejandro Garcia Padilla told U.S. Senators Tuesday that the government has avoided a major default only because of emergency measures that are unsustainable. Such steps allowed it to cover a $354 million payment due Tuesday on securities sold by its Government Development Bank, which would have been the first time it failed to pay on debt guaranteed by the central government.
Puerto Rico officials' talk about reneging on the island's debts is causing "enormous and irreparable harm," Wagner said. "It will leave a long-tailed problem for Puerto Rico to deal with in the capital markets."
More Help Needed
Steve Rattner, chairman of Willett Advisors, said the commonwealth's fiscal crisis may persist even if it's able to restructure debt. Willett oversees the assets of Michael Bloomberg, the founder and majority owner of Bloomberg LP, the parent of Bloomberg News.
"I don't know that a mere restructuring of the debt without some help from Washington, some additional resources, is going to be viable no matter what they do," said Rattner, who appeared on the same program.
Wagner said Puerto Rico needs "a non-political entity" such as a fiscal control board that is independent and can make difficult decisions, such as cracking down on widespread failure to pay sales taxes. Its leaders should seize the opportunity to change how they govern, tax and promote economic development, he said.
"Puerto Rico is a really amazing untapped resource that should be attracting a lot of capital," Wagner said.
Before it's here, it's on the Bloomberg Terminal.
LEARN MORE