Iran Undertook Nuclear-Bomb Studies Before 2009, IAEA Finds
by
Agency ends 12-year probe of suspected weapons research

Report marks next step toward implementing nuclear accord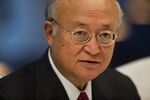 Iranian scientists experimented with technologies that could be used to make a nuclear bomb without ever taking the final steps needed to turn their work into a weapon, international investigators said in a landmark report aimed at ending a 12-year inquiry. 
International Atomic Energy Agency monitors assessed that Iran ceased work that could be used to develop a weapon by 2009, the Vienna-based agency found in a restricted report obtained Wednesday by Bloomberg News. Pending its approval by the IAEA's board of governors at a Dec. 15 meeting, the document will close the weapons inquiry and bring Iran one step closer to relief from international economic sanctions.
"These activities did not advance beyond feasibility and scientific studies, and the acquisition of certain relevant technical competences and capabilities," IAEA Director General Yukiya Amano wrote in the report. "The Agency has no credible indications of activities in Iran relevant to the development of a nuclear explosive device after 2009."
QuickTake: Iran's Nuclear Program
IAEA inspectors will continue monitoring Iran's nuclear work -- especially aspects that could have weapons applications -- under special powers obtained through the Islamic Republic's July accord with world powers, said two diplomats with knowledge of the probe who asked not to be named discussing confidential information. Iran has denied ever seeking a nuclear bomb and has pledged to allow wider monitoring under the accord.
While Iran investigated different technologies that could be used in constructing a weapon, the IAEA said its inspectors "found no credible indications of the diversion of nuclear material in connection with the possible military dimensions to Iran's nuclear program."
The IAEA report will let Iran accelerate implementation of the agreement by giving it a green light to export more than 8,000 kilograms (17,636 pounds) of enriched uranium. Iranian technicians have already begun dismantling thousands of centrifuges and are preparing to disable the core of a nuclear reactor.
Oil and banking sanctions against Iran could be lifted by mid-January based on the pace at which technicians are removing and mothballing nuclear equipment at the country's uranium-enrichment facilities.
Iran's Response
The report on "possible military dimensions" provided ample grist for the continuing debate over Iran's intentions. It bolstered the long-held view internationally that Iran at least explored the potential to develop nuclear weapons -- despite Iranian assertions its program has always been purely for peaceful use -- while finding that such experiments ended years ago.
"The final report of IAEA shows no evidence of a nuclear weapons program or diversion of nuclear material in Iran has been found," Iran's Deputy Foreign Minister Abbas Araghchi said, according to Tasnim news. "Now we can say all measures regarding past issues have been completely resolved and the issue of PMD is now finished."
In Washington, State Department spokesman Mark Toner told reporters that "the IAEA has confirmed that Iran met its commitments to provide responses" to the agency's requests.
Once the accord reached with Iran by the U.S. and five other world powers is implemented, Toner said, there will be "assurance that these types of past activities can not occur again. We'll have that kind of transparency, that level of access."
'They Lied'
Though the report could end one of the most contentious standoffs in the IAEA's 58-year history, it also may reinvigorate opposition in Washington to the accord with Iran.
"We're getting off to a very poor start," Republican Senator Bob Corker of Tennessee, chairman of the Senate Foreign Relations Committee and a leading opponent of the nuclear accord, said after a closed-door briefing on the report by Obama administration officials. "What we've heard today validates the concerns we had. We know they lied, the IAEA knows they lied."
"This is a whitewash," said Senator Bob Menendez, a New Jersey Democrat who also opposed the accord. "At the end of the day I have no doubt what we're going to see is a closing of this chapter of the possible military dimensions at Parchin with a vote at the IAEA that will allow the agreement to move forward."
The IAEA says Iran probably constructed a chamber at its military base at Parchin to study blast waves, an assertion Iran denies. A visit by inspectors in September yielded no evidence.
Democratic Senator Chris Coons of Delaware, who supports the nuclear agreement, called the report a positive sign "to the extent the IAEA confirms that Iran's denial of a nuclear weapons development and weaponization program is not credible."
Detonators, Parchin
According to the two diplomats who discussed the investigation's outcome, the IAEA will continue to closely monitor multiple areas of research in Iran under the wider powers they won under the July agreement. Investigators made the following assessments in Wednesday's report:
Detonator and high-explosives development: Iran was suspected of developing high-precision detonators for nuclear weapons. The IAEA assessed that "detonators developed by Iran have characteristics relevant to a nuclear explosive device. The Agency acknowledges that there is a growing use" of such "detonators for civilian and conventional military purposes."


Hydrodynamic experiments: Iran allegedly built a containment vessel inside the Parchin complex to study how a nuclear explosion might be set off. The IAEA assessed "that the extensive activities undertaken by Iran since February 2012 at the particular location of interest to the Agency seriously undermined the Agency's ability to conduct effective verification."


Modeling and calculations: Iran was suspected of modeling how neutrons would move during a nuclear explosion. The IAEA noted "the incomplete and fragmented nature of those calculations. The Agency also notes the applicability of some hydrodynamic modeling to conventional military explosive devices."


IAEA inspectors reported in November 2011 that they were in possession of "credible" information showing Iran may have experimented with nuclear-weapons technologies. For its part, Iran accused the IAEA of being a dupe of foreign intelligence agencies bent on framing the country for violations it didn't commit.
Before it's here, it's on the Bloomberg Terminal.
LEARN MORE