Goldman's One-Day Euro Forecast Is for 3% Fall on Dovish Draghi
by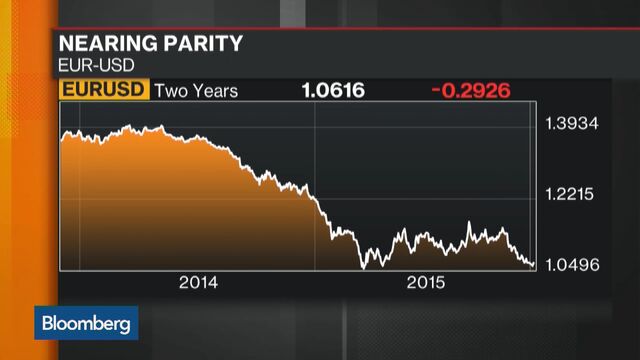 Just as investors were taking their bets on a weaker euro off the table before Thursday's European Central Bank meeting, Goldman Sachs Group Inc. said it was time to wager on.
Robin Brooks, Goldman's chief currency strategist, said ECB President Mario Draghi will deliver a "dovish surprise" at the meeting that will drive the euro down by as much as "three big figures" to about $1.03, a level not seen since 2002. The euro has already weakened 3.7 percent since the beginning of November to $1.0596 at 1:05 p.m. in Tokyo on mounting speculation the ECB will expand its bond-buying program and cut interest rates to shore up the region's non-existent inflation.
"The day before one of these important central bank meetings -- and this is
definitely one -- is always the moment of truth for investors," Brooks said on Bloomberg Television. "President Draghi is going to deliver in a forceful way."

The euro pared its decline Wednesday to 0.2 percent from as much as 0.8 percent. The ECB's Governing Council will announce its policy decision at 1:45 p.m. in Frankfurt. Draghi will hold a press conference 45 minutes later where he may unveil any further measures. All economists in a Bloomberg survey published this week said the central bank will add stimulus, with predictions including an extension or expansion of its 1.1 trillion-euro ($1.2 trillion) bond-buying program.
"Most of the feedback we are getting is that people are cautious, on a sense that market expectations are elevated; we disagree," Brooks said in a research note published Wednesday. It is "important -- both for ECB credibility and, more important, for reversing the lowflation dynamic -- to make tomorrow's easing a material event, i.e. to surprise the market."
Before it's here, it's on the Bloomberg Terminal.
LEARN MORE