Viacom Says Redstone `Mentally Capable' After Gabelli Query
by
Gamco is largest outside holder of Viacom, CBS voting stock

Media mogul's ex-girlfriend questions mental state in lawsuit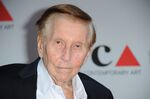 Viacom Inc., responding to calls for more information about the health of controlling shareholder Sumner Redstone, said its founder and executive chairman is "mentally capable."
"As has been widely and publicly disclosed, Mr. Redstone's physicians have publicly attested that he is mentally capable, and this information is consistent with other medical and other information available to me," William Schwartz, chairman of Viacom's governance and nominating committee, said Wednesday in an e-mailed statement.
The statement followed a call on Twitter.com by investor Mario Gabelli, the largest outside holder of voting stock in Viacom, for more information about Redstone's condition. Viacom, based in New York, is the parent of the Nickelodeon and MTV cable TV networks. It also owns Paramount Pictures.
Gabelli, whose Gamco Asset Management holds about 10 percent of Viacom's Class A voting stock, and a similar stake in another Redstone holding, CBS Corp., made the comments as the 92-year-old media mogul fights a lawsuit over his mental capacity brought by an ex-girlfriend. Manuela Herzer was thrown out of Redstone's Beverly Hills, California, home in October and replaced as his proxy on health-care matters by Viacom Chief Executive Officer Philippe Dauman, according to court documents.
"Viacom..(VIA)...give to Hollywood what belongs to H ..... but give to all shareholders what the Board of Directors know about Executive Chair," Gabelli wrote on the social network on Tuesday.
Gabelli has longstanding ties to many prominent figures in media. Viacom and CBS are two of the biggest media conglomerates in the U.S., with a combined market value of about $43 billion. Redstone, executive chairman of both companies, controls them through his 80 percent ownership of their voting stock.
Gabelli didn't respond to a request for comment.
California Suit
On Monday, California Superior Court Judge Clifford Klein sided with Redstone's attorneys, saying he appeared to be under good care and that there was no urgency to proceed with further evaluations. Klein tentatively scheduled a hearing for Jan. 27 on Redstone's request to dismiss Herzer's case.
Redstone controls CBS and Viacom through National Amusements Inc., a family holding company. He retains that control until such time as his incapacity or death, according to a filing CBS made with the U.S. Federal Communications Commission.
At that time, control over Redstone's stake in National Amusements will pass to a trust with a seven-member board that includes his daughter Shari Redstone, his grandson Tyler Korff, Dauman and four lawyers with long-standing ties to the family. Shari Redstone owns 20 percent of the family company.
Gabelli's combined stake in voting and non-voting shares of CBS and Viacom is worth about $500 million, according to data compiled by Bloomberg.
Viacom's more widely held nonvoting stock fell 4.1 percent to $47.65 at the close in New York. It has declined 37 percent this year through Tuesday and is the worst performer in the S&P 500 Media Index. CBS retreated 2.1 percent to $50.05 and is down 9.6 percent for 2015.
Reuters reported on Gabelli's comments earlier Wednesday.
The case is In re Advance Health Care Directive of Sumner M. Redstone, BP168725, Los Angeles County Superior Court.
Before it's here, it's on the Bloomberg Terminal.
LEARN MORE