Economy Expanding Modestly Across Most of U.S., Beige Book Says
Brendan Murray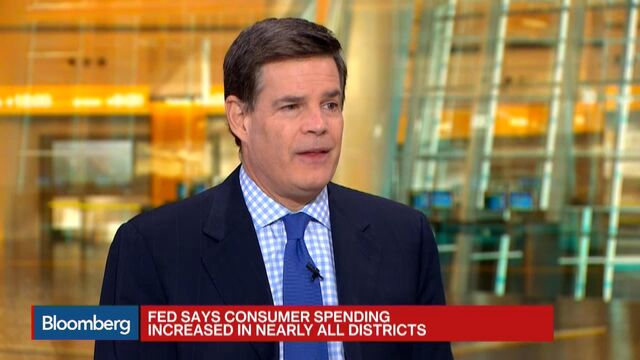 The economy expanded modestly across most of the U.S. in October and November amid rising consumer spending, while a stronger dollar helped keep inflation in check, a Federal Reserve report showed.
Eight of the 12 Fed districts called the expansion "modest," while the Minneapolis region reported moderate growth, according to the Beige Book released Wednesday in Washington. Conditions were "steady" in the Kansas City district and "leveled off" in New York, while growth reported by the Boston Fed was "somewhat slower."
"Consumer spending increased in nearly all districts," with robust car sales and lower gasoline prices boosting purchases of trucks and larger vehicles, the report said. While "labor markets continued to tighten modestly," prices were "generally steady."
Pay gains were described as "generally stable to increasing," with most districts saying wage pressures were only building for skilled workers and employees in short supply.
The report coincides with Fed Chair Janet Yellen's comments in a speech earlier Wednesday that she is increasingly confident the economy is growing sufficiently to achieve labor-market improvement and higher inflation. The policy-setting Federal Open Market Committee is scheduled to meet Dec. 15-16 and is widely expected to raise its benchmark interest-rate target for the first time since 2006.
Many districts said the recent pickup in hiring was driven by temporary staffing agencies, according the survey, which was based on information gathered by the Richmond Fed before Nov.
20. The exception was the Chicago region, where "activity had slowed" at temporary-help firms.
Cheap energy costs and a rising dollar were weighing on prices, the report said. The Dallas Fed noted that a trucking company was passing on lower fuel costs to consumers, while contacts in Boston reported the stronger currency "put downward pressure on prices."
Manufacturing was "mixed," while the housing market improved at a "moderate pace," the report said. Commercial loan demand strengthened in most areas, it said.
Before it's here, it's on the Bloomberg Terminal.
LEARN MORE