Dollar Risks Grow as Hedge Funds Make Greenback Most Favored Bet
By
HSBC, SocGen warn U.S. currency's rally is poised to reverse

Wagers on dollar gains in futures market approach record high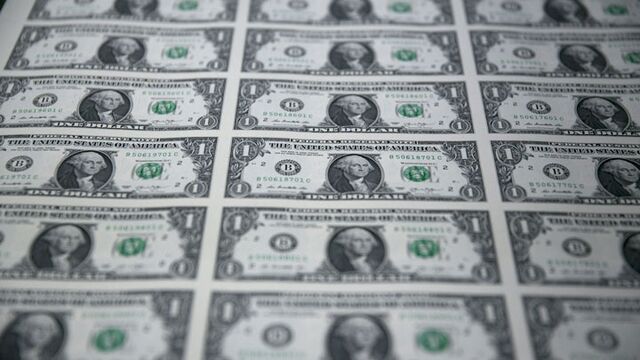 The dollar is on the cusp of its longest winning streak since March and traders keep piling in, yet a growing number of influential strategists are starting to sound alarm bells.
The potential for a pullback is growing, according to Societe Generale SA and HSBC Holdings Plc, which highlighted the U.S. currency's vulnerabilities before a second-quarter setback. A gauge of the greenback has gained almost 5 percent from this quarter's low on Oct. 15. Three rallies of similar magnitude ended with 3 percent downturns in March, June and August.

That's a threat to hedge funds and other large speculators that pushed bullish futures positions close to an all-time high last week, and eight of the world's 10 largest currency-trading banks see 2016 yielding additional dollar gains. Their conviction has boosted the dollar gauge to its highest in at least a decade, and become part of a cautionary sign that the trade is overcrowded and ripe for reversal.
"Given how far we've been, how far we've traveled, what the valuations look like and how big positioning is, the risk of positions being taken off and of a correction seems pretty big to me," said Kit Juckes, a London-based global strategist at SocGen. The currency has room to weaken about 7 percent to $1.13 per euro before it regains its footing, he said. The exchange rate was $1.0614 at 3:15 p.m. New York time.
Investors have piled into the currency as the Federal Reserve prepares to raise interest rates for the first time in almost a decade. The Bloomberg Dollar Spot Index, which tracks the greenback versus 10 major peers, reached its highest level in more than 10 years on Nov. 30, capping a 19 percent rally during the past 18 months.
Past rate-increase cycles show the dollar often runs out of steam after the first boost in borrowing costs. Option pricing also suggests investor confidence in the currency is waning. The premium for contracts protecting against an advance versus the euro, compared with those guarding against a drop, is the lowest since August.
"Once you begin to lose momentum in this dollar buying then everybody will turn around and ask, 'Where next from here?'" said Daragh Maher, the New York-based head of U.S. foreign-exchange strategy at HSBC, which sees the dollar slumping to $1.20 versus the common currency by the end of 2016, the second-weakest of 52 estimates compiled by Bloomberg. "Do you want to pile into something where you might feel you're quite late in the day? I suspect the answer to that is no."
Funds Unconvinced
Hedge funds and other large speculators remain unswayed. The difference in the number of contracts that profit from a rise in the dollar versus eight of its major peers compared with those that benefit from a loss was 428,298 as of Nov. 24, up from 411,208 a week earlier. That's approaching January's record of 448,675.
Dollar declines from unwinding of bullish positions may be short-lived. Banks including Barclays Plc, JPMorgan Chase & Co. and Goldman Sachs Group Inc. see reasons to buy the greenback as tighter U.S. monetary policy diverges from that of other central banks which are adding stimulus.
Barclays -- the world's third-largest currency trader according to Euromoney magazine -- favors the greenback for all eight of its top trades, while JPMorgan forecasts another surge for the trade-weighted measure before a 2016 peak. Goldman Sachs sees the dollar climbing to parity with the euro by year-end.
'Strong Growth'
"We expect the U.S. dollar to outperform all major currencies next year, supported by relatively strong growth and a widening monetary policy divergence," Barclays analysts led by Jose Wynne, the New York-based head of foreign-exchange research, wrote in a note Nov. 12.
Forecasts compiled by Bloomberg put the dollar at $1.05 per euro at the end of 2016.
The U.S. currency rallied against all of its 16 major peers except the Australian dollar in November. A trade-weighted measure of the greenback that's scrutinized by the Fed rose last month to its highest in 10 years.
"It's a very difficult trade to be in when everyone's on the right side now," said Ed Keon, a money manager at Prudential Financial Inc.'s Quantitative Management Associates. "You kind of have to have one foot out the door."