Charting the Markets: Yellen Speaks While ECB Day Nears
By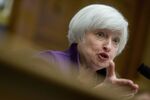 Global stocks are little changed before Federal Reserve Chair Janet Yellen delivers a speech to The Economic Club of Washington. On Thursday she testifies  before Congress' Joint Economic Committee. It's expected she'll signal a December interest rate hike is likely, while stressing the pace of increases thereafter will be gradual. U.S. data on Wednesday showed manufacturing activity unexpectedly contracted in November, throwing up questions about the durability of the world's largest economy. There's a 72 percent chance the Fed will raise rates in two weeks, according to Bloomberg data.

As U.S. two-year government bonds fall ahead of the Dec. 16 Fed meeting, the yield difference - or spread - between 10-year notes has narrowed to the least in 10 months. What is called the flattening of the yield curve signifies the path of tighter monetary policy will be a shallow one. Two-year securities are yielding their highest in over five years, rising 30 basis points since the last Fed meeting on Oct.28. Not all Fed officials are talking up the prospects of action this month. On Tuesday Chicago Fed President Charles Evans - known as a dovish Fed policymaker - admitted "to some nervousness" about the upcoming decision. He thinks it may be appropriate for the Fed funds rate to still be under 1 percent at the end of 2016.

A Bloomberg gauge tracking the Australian dollar against nine developed peers has risen to its highest since the beginning of July, prompted by a stronger-than-forecast growth report. GDP rose 0.9 percent in the third quarter from a revised 0.3 percent in the previous three months. Dig beneath the surface and the picture isn't so rosy, though. The expansion was driven by the fastest gain in exports since 2000. Domestic demand contracted by 0.5 percent, the biggest decline since 2009. Since the third quarter, when the Australian dollar fell by almost 9 percent against its U.S. counterpart, it's rebounded 4 percent as expectations diminish for a rate cut in the first half of 2016. The central bank kept its benchmark rate unchanged at a record-low 2 percent yesterday.

OPEC ministers arrive in Vienna ahead of Friday's meeting and crude oil is falling for the third time in four days. It's been over a year since the cartel maintained output to defend market share against higher-cost shale producers. In that time, crude oil has slumped 37 percent. Saudi Arabia's Oil Minister Ali al-Naimi says his country will consider all issues and listen to the concerns of other group members. Venezuela and Iran are among those calling for a supply reduction. OPEC's 12 members pumped above their collective production target of 30 million barrels a day the past 18 months and it's expected the group will refrain from cutting output.
 Mark Barton is a presenter on Bloomberg TV. Follow him on Twitter @markbartontv