Cameron Says U.K. Must Heed Call of Allies on Islamic State
by and
Prime minister opens 10-hour debate in Parliament before vote

Ignores apology calls over `terrorist sympathizers' remark
Prime Minister David Cameron said Britain must answer the call of its allies, as he urged Parliament to approve extending military action against Islamic State into Syria.
"The threat is very real," the prime minister said Wednesday, as he opened more than 10 hours of debate in the House of Commons in London. "The question is this: do we work with our allies to degrade and destroy this threat?"
QuickTake Fighting Islamic State
Cameron said that the attacks on Paris last month had shown the extent to which terrorism was being directed from within Syria. Britain's Royal Air Force has surveillance equipment and precision missiles that other militaries lack, he said.
The government is on course to win the vote after opposition Labour Party leader Jeremy Corbyn abandoned an attempt to force his lawmakers to vote against. While some Tories have said they oppose action, more Labour members of Parliament have said they support it. Corbyn, responding to Cameron, argued public opinion is moving in his direction.
Growing Doubts
"Since the prime minister first made his case for extending U.K. bombing to Syria in the House last week, the doubts and unanswered questions then expressed on both sides of the House have only grown and multiplied," the Labour leader said. "Whether it's the lack of a strategy worth the name, the absence of credible ground troops, the missing diplomatic plan for a Syrian settlement, the failure to address the impact on the terrorist threat or the refugee crisis and civilian casualties: it's become increasingly clear that the prime minister's proposals for military action simply do not stack up."
Labour's foreign-affairs spokesman, Hilary Benn, will close the debate, speaking in favor of military action, in a sign of the depth of divisions in the main opposition party.
"I find this decision as difficult as anyone to make," former Labour Home Secretary Alan Johnson, who is backing the motion, said before taking a swipe at supporters of Corbyn who have been bullying lawmakers to oppose the strikes. "I wish I had the self-righteous certitude of the finger-jabbing representatives of our new and kinder politics."
Apology Calls
Cameron was asked multiple times to apologize for reported remarks to Conservative lawmakers last night that those who disagreed with him would be voting alongside "terrorist sympathizers." Corbyn and Labour's finance spokesman, John McDonnell, were supporters of Sinn Fein, the Irish Republican Army's political wing, while the IRA was carrying out its bombing campaign during the 1980s. Corbyn said the comments "demean" the office of prime minister.
"I respect the fact that we're all discussing how to fight terrorism, not whether to fight terrorism," Cameron told Parliament. "There's honor in voting for, there's honor in voting against."
Julian Lewis, a lawmaker from Cameron's Conservative Party who heads the House of Commons Defence Committee, said he will be joining those voting against an extension of bombing. He ridiculed Cameron's argument that there are 70,000 moderate Syrian fighters on the ground ready to press the advantage provided by a bombing campaign.
"Instead of a dodgy dossier," he said, in reference to Tony Blair's assertion that Saddam Hussein had weapons of mass destruction before the invasion of Iraq, "we now have bogus battalions."
The vote will take place after 10 p.m. in London.
Watch Next: How Islamic State Makes Money Explained in Three Minutes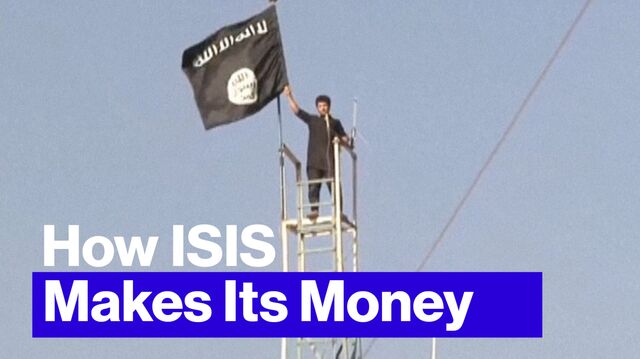 Before it's here, it's on the Bloomberg Terminal.
LEARN MORE