Brazilian Bank BTG Says Esteves No Longer a Controlling Shareholder
By
Bonds continue to slump after Moody's downgrade to junk

Company raises $618 million with sale of Rede D'Or stake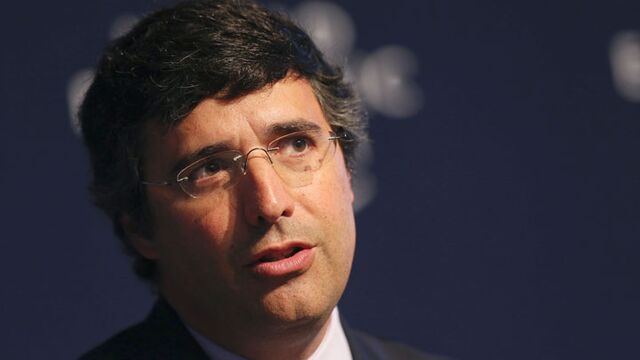 Grupo BTG Pactual SA founder Andre Esteves lost control of Latin America's largest independent investment bank a week after his arrest in a corruption probe, as his former partners rushed to stem a rout in the firm's bonds, shares and funds.
Partners including new co-Chief Executive Officers Marcelo Kalim and Roberto Sallouti used a share swap with Esteves to take control of the company, Sao Paulo-based BTG said in a regulatory filing Wednesday. The announcement came within hours of BTG saying it sold a stake in Rede D'Or Sao Luiz SA, Brazil's biggest hospital chain, for 2.38 billion reais ($618 million), as it seeks to shore up cash.

Esteves, the billionaire former chairman and CEO of BTG, is in jail indefinitely in connection with Brazil's largest-ever corruption probe, known as Carwash. Yields on the firm's $1 billion of 4 percent bonds due 2020 almost doubled on Nov. 25, when he was arrested, and have continued to climb, trading at 20.8 percent Wednesday in Sao Paulo. BTG's stock has lost about a third of its value since the arrest, to a record low 19.86 reais earlier today. It closed at 20 reais, down 1.5 percent from Tuesday.

BTG's top seven partners took control of the company by granting Esteves non-voting stock in exchange for his voting shares, according to a person familiar with the matter. The exchange was triggered by the company's bylaws, said the person, who asked not to be identified because he wasn't authorized to speak about the details of the exchange. All seven will hold equal amounts of voting shares, the person said.
"Isolating Esteves won't be enough to keep the problems away," Bernardo Rodarte, who oversees 1 billion reais at Sita Corretora, said in a telephone interview from Belo Horizonte. "A bank is its reputation. There is no way around it and this crisis has definitely damaged it."
Signs of fallout for the banking industry and the wider economy also emerged, with the MSCI Brazil/Financials Index falling as much as 2.5 percent Wednesday and 11 percent since Nov. 24. The cost of insuring Brazil bonds in the credit-default swaps market for five years rose 1.3 basis points to 447 basis points, the highest in five weeks.
Fund Withdrawals
Clients are pulling money from some of BTG's funds, withdrawing a net 5.1 billion reais from 10 fixed-income funds listed on the bank's website in the three days following Esteves's arrest, according to the latest data available. That's about 40 percent of their combined net assets.
Brazilian authorities allege Esteves, 47, tried to obstruct a corruption probe into Petroleo Brasileiro SA by offering to help a witness flee the country. Esteves, who has denied wrongdoing through his attorneys, resigned his posts on Nov. 29. BTG has said it's not being investigated and is cooperating with authorities.
BTG funds about 23 percent of its balance sheet with equity and long-term debt, according to the firm's financial statements, leaving the rest vulnerable to an increase in borrowing costs or an erosion of confidence among the bank's creditors, depositors and trading counterparties.
Closing Ranks
"Investment banking and asset management are confidence businesses," said Christopher Wheeler, an analyst at Atlantic Equities in London. "If clients lose confidence, then the franchise is in deep trouble. Regardless of Andre Esteves's many achievements, his former colleagues have to close ranks and protect the business."
Moody's Investors Service cut its rating on BTG's banking unit to Ba2 from Baa3 late Tuesday, and said the junk grade remains on review for further downgrades. Moody's cited concern that the investment bank will struggle to keep enough cash on hand and maintain its franchise. Standard & Poor's said Wednesday it lowered its rating to BB- from BB.
While the bank has taken steps to bolster confidence, including asset sales and a halt in origination of new loans, it "remains exposed to liquidity pressures if these efforts are not effective," Moody's said.
Chairman Persio Arida said Wednesday in an interview that the bank is selling "non-essential" assets, and pointed to the Rede D'Or transaction as an example.
Some investors said BTG's efforts demonstrate the resilience of its business.
Shows Dynamism
"The change is positive as it shows the dynamism, the agility of BTG's partnership model," Rodrigo Martin, an analyst at Porto Alegre, Brazil-based Quantitas, said in an interview. "This agility works very well even during crisis moments. BTG's partners took complex steps in a very short period of time."
Esteves became Brazil's youngest self-made billionaire when he sold Pactual to UBS for $2.6 billion in 2006. He and his partners bought it back three years later and began an expansion, snapping up businesses including the Swiss private-banking unit of Assicurazioni Generali SpA. The firm sold shares to the public in 2012.
More than 100 people have already been arrested in the Carwash probe, including former executives at Petrobras. The sweeping investigation into alleged corruption at the state-owned oil company, which began in March 2014, has helped make Brazil's real the worst-performing major currency this year, contributed to an economic contraction and shaken the government of President Dilma Rousseff.