Brazil's Authorities in a Pickle as BTG Spillover Fear Spreads
Paula Sambo, Anna Edgerton and Mario Sergio Lima
Crisis in investment bank comes as Brazil faces deep recession

Central Bank says it is monitoring situation with BTG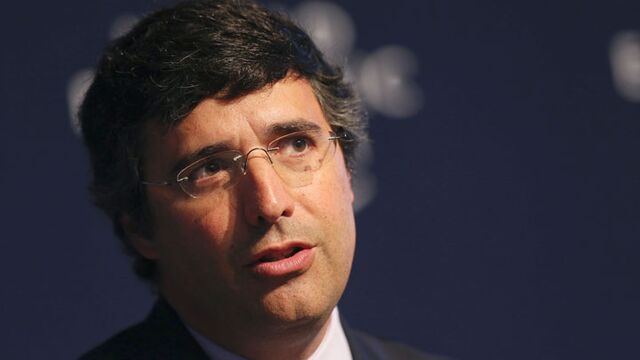 A week after the arrest of Brazil's billionaire Andre Esteves, the lack of guidance from Brazilian authorities on the future of his troubled investment bank BTG is exacerbating investors' nervousness.
Since Esteves was detained on Nov. 25 the only official statement from the central bank the same day was that it is monitoring the situation and that the bank showed solid financial indicators and continued operating normally. President Dilma Rousseff on Monday said from Paris that while she expected some economic impact from the arrest, neither she nor anybody else "had the slightest idea" of its broader implications.
Markets are already unnerved by the deepest economic recession in a quarter of a century and uncertainty whether Rousseff will survive attempts to oust her. The real is the worst performing major currency with a 31 percent drop against the dollar, while the Bovespa stock exchange sank 10 percent this year. Now investors are worried that Banco BTG Pactual, which was downgraded to junk by Moody's Investors Service on Tuesday, could drag down other banks and companies with which it had dealings.
"The crisis in a major bank is the last thing Brazil needs in the middle of this whole economic and political mess," Bernardo Rodarte, who oversees 1 billion reais ($260 million) of assets at Sita Corretora, said in a telephone interview from Belo Horizonte. "2015 has shaped up as a year to be forgotten and I am not very optimistic regarding 2016."
The central bank, finance ministry and Rousseff's press office all declined to comment.
Yields on BTG's $1 billion of bonds due 2020 almost doubled on the day Esteves was arrested and have continued to climb, trading at 16.1 percent as of 3:52 p.m. in Sao Paulo. The bank's stock has lost about a third of its value during the same period to a record low 20.21 reais.
Lehman Brothers
The timid response from authorities in the case of BTG also reflects a broader paralysis in a government more concerned with containing a corruption scandal that has shaken the economic and political establishment of the country, said Andre Cesar, a political analyst and founder of Hold Assessoria Legislativa. He said if nothing more is uncovered in this case, he doesn't expect any further statements from the government or the Central Bank.
"This government has shown it is barely able to react, much less be proactive in important situations," Cesar said. "The government's not going to get involved because they've found that the more they scratch, the more their problems start to itch."
The situation of BTG has similarities with that of Lehman Brothers in 2008 when its funding dried up, and a possible default could have far-reaching impact because of the amount of debt it has circulating in the market. At the same time, Brazil's central bank has limited policy options short of an outright intervention, said Paulo Vieira da Cunha, chief economist at Ice Canyon in New York and a former director for international relations at Brazil's central bank.
Publicly extending an emergency line of credit, which the central bank by law can grant any financial institution, would signal to the market that things aren't looking good, said Cunha. "It's a difficult situation for the central bank."
High-profile banks
"There's been no episode of the central bank getting out there, commenting on specific situations such as these involving one particular bank," said Alexandre Schwartsman, a former central bank director and managing partner at Schwartsman & Associados. "I'm sure that central bank technicians are not turning a blind eye here, they must be paying attention to liquidity and other factors."
Over the past week BTG shares have plummeted 34 percent and have contaminated the currency, equity and sovereign debt markets, said Ipek Ozkardeskaya, an analyst at London Capital Group. "There's a domino effect," she said in phone interview. "More questions are arising, is there more behind the scene? Could this scandal spill over to other companies?"
The last time Brazil's central bank faced a crisis in a high-profile investment bank was in 2008, when the founder of Opportunity Capital Partners, Daniel Dantas, was arrested on money laundering and racketeering charges. Investors withdrew 68 percent of the funds the firm managed in less than a week. The central bank opened a probe against the bank and the government froze more than $2 billion in accounts related to the case. Later that year, Brazil's Supreme Court declared the arrests illegal and in 2015 cleared Dantas of all charges.
(
Corrects story first published on Dec. 2 to show in final paragraph that Dantas was cleared of all charges.
)
Before it's here, it's on the Bloomberg Terminal.
LEARN MORE