Back to Reality for Hollande as Voters Flock to Le Pen Message
by and
Sunday results won't match Hollande popularity after attacks

National Front leading in popular vote, could take two regions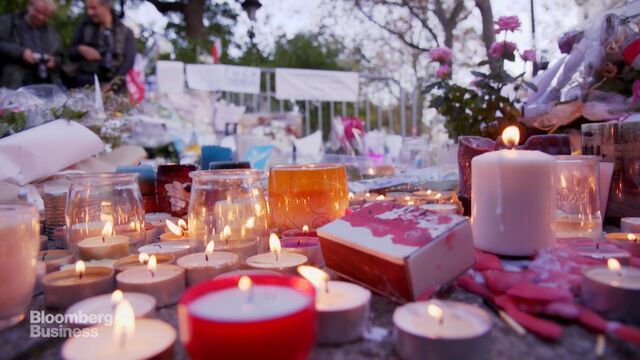 After three weeks spent decrying terrorists and occupying the world stage, French President Francois Hollande faces an abrupt return to domestic reality this weekend in the form of surging support for the far-right National Front that could give his party an electoral defeat.
Voters head to the polls for the first round of regional elections Sunday. By the time results of the second round are in on Dec. 13, the anti-immigrant, anti-euro National Front may well win power in two or three of 12 regional assemblies for the first time and trounce Hollande's Socialists in the popular vote, polls show.
Though his handling of the Nov. 13 terrorist attacks on Paris has brought Hollande respite in terms of personal popularity, the performance hasn't washed away discontent about an economy that has barely grown in three years and joblessness near a record high.
"There is no reason to think that temporary, personal popularity will translate into votes for Hollande or the Socialist government," said Frederic Sawicki, a professor of politics at the University of Paris-Sorbonne. "It will be a brutal wake up call."
Since the attacks that killed 130 in and around Paris, Hollande has assumed his role as France's commander in chief, enacting emergency powers at home and intensifying bombing of Islamic State forces in Syria and Iraq. He has seen Presidents Barack Obama in Washington and Vladimir Putin in Moscow, as well as meeting leaders including German Chancellor Angela Merkel, U.K. Prime Minister David Cameron and Chinese President Xi Jinping in Paris in an effort to build a coherent coalition in the Middle East.
To top it off, he played host to more than 140 leaders in Paris this week as part of talks aimed at limiting global warming -- after a quick trip to Brussels Sunday for meetings on Europe's migrant crisis by way of Malta and a summit of government leaders from the Commonwealth.
Hollande's approval rating has jumped 20 points in the past month to 35 percent, the highest since February 2013, according to a TNS Sofres poll of 1,000 voters published Wednesday. The same series saw his rating drop to 13 percent in November 2014, a record low for all French presidents.
"The president did what the French expect of him," Stephane Le Foll, cabinet member and Hollande confidante, said Wednesday after the weekly cabinet meeting. "The regional elections are a different issue, they pose a different question to the French."
Hollande has said little about the impending elections, to 12 regional bodies with powers to intervene in everything from transport to industrial subsidies and land development. Leaders of the 12 regional governments in continental France may include National Front leader Marine Le Pen and heavyweights such as Defense Minister Jean-Yves Le Drian, providing them with platforms on which to boost national profiles.
Third Place
The National Front is set to win 28.5 percent of the popular vote, just ahead of The Republicans, led by former president Nicolas Sarkozy, according to an ELABE poll of 1,003 voters taken Dec. 1 and 2. Hollande's Socialists would be relegated to third place with 23 percent of the vote. Candidates who win more than 10 percent make it into the second round.
BVA Opinion polling predicts that the National Front will win the North region, which includes the migrant camps near the entrance to the Channel tunnel, and Provence-Alps-Cotes d'Azur on the Mediterranean coast. Four more regions will go to The Republicans, three will be contested and three will be held by the Socialists, the poll, taken Nov. 17-23, showed.
In a country where the regional vote is often a referendum on the party ruling nationally, that's bad news for Hollande, who has less than a year and a half left in his term. It also underlines the surging fortunes of the National Front, which won just 11 percent of the vote in the first round of regional elections in 2010.
Le Pen Values
"There is now consistency in the National Front vote," said Yves-Marie Cann, head of political research at ELABE. "Beyond the protest dimension, it's also a conviction vote, a signing up to the ideas defended by Marine Le Pen and her party."
The party has for decades called for reduced immigration and for France to re-take control of its borders as well as its currency. In the current atmosphere, Le Pen is saying she and her father before her predicted many of the problems besetting the country today.
"The National Front doesn't even need to campaign, it doesn't need to make promises," Sawicki said. "The regional elections may be an important moment in which we see a re-alignment of political forces and strategy."
Before it's here, it's on the Bloomberg Terminal.
LEARN MORE