As Europe Grapples With Refugees, Pacific Islanders Move
by
About 10% of population of three nations migrated in a decade

Climate change eroding land and destroying groundwater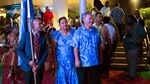 As Europe grapples with its own refugee crisis triggered by the war in Syria, there's mounting evidence that people in Pacific island nations are starting to move because of the effects of climate change.
One in 10 people in three Pacific nations has migrated in the past decade as global warming boosts sea levels, eroding the land around their homes and destroying crops and groundwater. About 3.2 percent of the 124,000 inhabitants of Kiribati, Tuvalu and Nauru left for other countries, according to a survey by the United Nations University and the UN Economic and Social Commission for Asia and the Pacific. Another 7.5 percent moved internally. 
"Pacific islanders are facing the brunt of climate change impacts and are increasingly finding themselves with few options," Enele Sopoaga, the prime minister of Tuvalu, said in an e-mailed statement.
The findings released at the UN global warming talks in Paris underscore the risks of climate change unsettling whole populations, suggesting industrialized countries will have to cope with increasing migration in the years ahead.
Severe drought linked to climate change has already been flagged as a possible seed for the Syrian conflict, which has led to tens of thousands of refugees seeking shelter in Europe, according to the Center for Climate Change and Security, a research group in Washington. The Pentagon released a report in July linking climate change to increased security threats.
The data from the UN University included economic migrants as well as those moving for environmental reasons. The survey highlights a trend that's only likely to grow as rising temperatures force up sea levels and make rainfall patterns more erratic.

The three nations are among 195 attending two weeks of UN discussions in the French capital to forge a new deal to fight global warming. They're pushing for tougher limits on global warming and a mechanism to address the so-called "loss and damage" they're experiencing largely as a result of rising sea levels.
Of the three nations, Tuvalu was the most affected by migration, with 15 percent of its population of 10,857 moving internationally, 12 percent moving internally and 8 percent wanting to migrate but unable to do so. 
For Nauru, with a similarly-sized population, 10 percent moved internationally and 7 percent wanted to move. There was no internal migration because of the geography of the country. In Kiribati, with a population 10 times the size, 1.3 percent migrated internationally and 7.7 percent internally, and a further 9 percent wanted to move but couldn't.
"Most households in all three countries have been impacted by climate change over the past 10 years," the researchers wrote. "This motivates some people to search for new homes, either to ensure a source of income or to find land on which to live."
Before it's here, it's on the Bloomberg Terminal.
LEARN MORE