ArcelorMittal Slumps as Citigroup Sees Profit Hit by Steel Rout
by
Citigroup cuts ArcelorMittal's rating to neutral from buy

Shares drop to 12-year low; steel prices hurt by China exports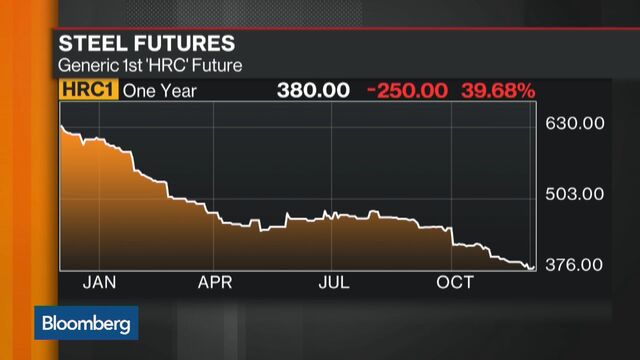 ArcelorMittal slumped to a 12-year low after Citigroup Inc. said earnings for the world's biggest steel producer will fall even lower next year amid a collapse in prices for the material.
The stock dropped as much as 8.4 percent to the lowest since October 2003, and traded down 6.6 percent at 4.312 euros by 10:40 a.m. in Amsterdam. Citigroup lowered its recommendation to neutral from buy and said it had "jumped the gun" on upgrading the shares in October.
"Headwinds from excess global capacity show little sign of abating," the bank said in a note to investors Wednesday. "The trajectory of the current cycle points to little prospect of a decisive inflection of this low level."
ArcelorMittal is fighting to sustain profits on two fronts. China's slowest economic growth in more than two decades has fueled record steel exports from the nation, undercutting prices across the world, including in the company's two biggest markets of Europe and the U.S. At the same time, prices for iron ore that it mines have slumped amid a glut of the steel-making material.
Full-Year Earnings
The producer said last month that full-year earnings before interest, taxes, depreciation and amortization would fall to $5.2 billion to $5.4 billion this year after cutting its target for the second time. Citigroup said it expects Ebitda to fall to $5 billion next year. Shares of the Luxembourg-based company have dropped 53 percent in 2015.
The flood of cheap exports from China has drawn complaints from Europe and the U.S. that the shipments are unfair. Bloomberg Intelligence estimates Chinese steel shipments overseas will exceed 100 million metric tons this year, more than the combined output of Europe's four largest producers.
The market is being overwhelmed with metal coming from China's state-owned and state-supported producers, a collection of industry associations have said. The nine groups, including Eurofer and the American Iron and Steel Institute, said there is almost 700 million tons of excess capacity around the world, with China contributing as much as 425 million tons.
Before it's here, it's on the Bloomberg Terminal.
LEARN MORE