pursuits
After Monsoon Failure, Deluge Mars India Gold Demand Outlook
By
Fourth-quarter demand seen as low as 200 tons, WGC says

Floods in southern city of Chennai seen hurting demand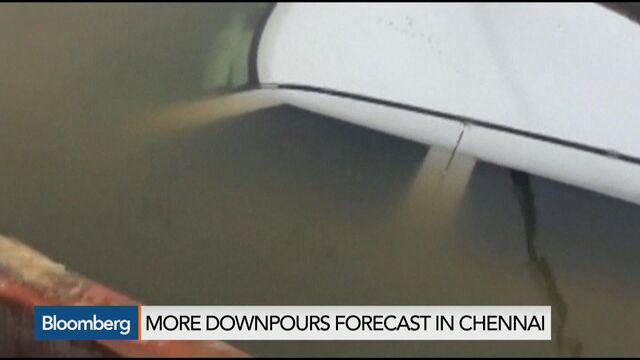 The first back-to-back shortfall in India's monsoon rain in three decades is hurting gold demand with sales of pendants to bracelets and necklaces dwindling during the busiest quarter of the year. A deluge that's marooned Chennai, a key market, is only adding to the woes.
Bullion consumption is seen as low as 200 metric tons in the fourth quarter, P.R. Somasundaram, managing director for the World Gold Council in India, said in an interview in Mumbai on Wednesday. That compares with demand of 268.1 tons in the third quarter and 202 tons during the fourth quarter of 2014, council data showed.
Large parts of India,  which vies with China as the biggest gold consumer in the world, received below-average rain this year as an El Nino, ranked among the strongest since 1950, intensified. That hurt crops from rice to cotton and sugar cane, leaving less money in the hands of farmers in rural areas, which account for about 60 percent of annual demand. The worst deluge in a century in India's southern state of Tamil Nadu is now threatening to further hurt demand, Somasundaram said.

"The rural demand doesn't appear to have been good because of poor rains," Somasundaram said. "What has happened over the last month in Chennai, which is a core market, is a huge loss as it is going to cut into the expenditure of people."
The deluge paralyzed Chennai, closing offices, automobile factories and the airport. The city suffered a record 1,218.6 millimeters (48 inches) of precipitation in November, according to forecaster Skymet.
Deluge Impact
The south Indian states of Tamil Nadu, Kerala, Andhra Pradesh and Karnataka account for about 40 percent of India's demand, Somasundaram said, citing industry estimates. "These states are very high in the intensity of demand, so when any such event happens that could cut income of people, it has to be factored in."
India's harvest of monsoon crops such as rice, cotton, sugar cane and soybeans will drop this year, according to the Agriculture Minister. Monsoon rains were 14 percent below a 50-year average in 2015 after a 12 percent deficiency a year earlier, according to the India Meteorological Department.
While India's total consumption in 2015 estimated at 850 tons to 950 tons will remain above last year's 811 tons, purchases will be lower than the 900 tons to 1,000 tons forecast by the council in August, Somasundaram said. Demand usually peaks in the final quarter in India with gifting during festivals and culminates with the start of the wedding season in November.
Imports dropped 22 percent to 655 tons in the eight months through November though shipments more than doubled in November to 101 tons from October, two finance ministry officials said on Wednesday, asking not to be identified citing government rules.
Bullion for immediate delivery slumped to a more than five-year low of $1,046.44 an ounce on Thursday after comments from the Federal Reserve Chair Janet Yellen on Wednesday signaled that U.S. interest rates will rise gradually after a widely anticipated liftoff this month. Futures in Mumbai, down 6.6 percent this year, traded 0.4 percent lower at 24,947 rupees per 10 grams by 4:33 p.m. local time.
(
Updates prices in final paragraph.
)
Before it's here, it's on the Bloomberg Terminal.
LEARN MORE