markets
Yuan Drops as SDR Approval Seen Prompting PBOC to Reduce Support
By
Long-term goal is to cut intervention, says deputy governor

DBS forecasts depreciation driven by economic fundamentals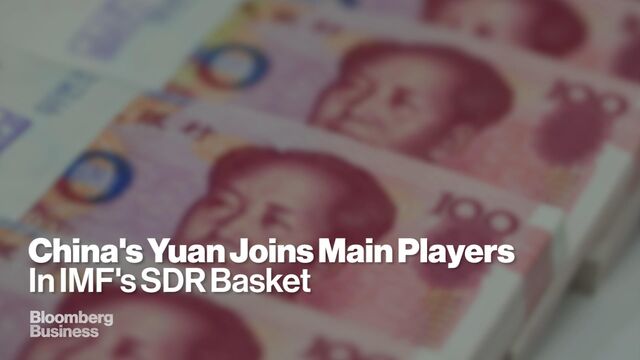 The yuan weakened in offshore trading amid speculation China's central bank will rein in intervention now that the IMF vote on reserve-currency status is out of the way.
QuickTake The People's Currency
The People's Bank of China will have a more hands-off approach and develop enough confidence to give market forces greater say, Paul Mackel, head of emerging markets foreign-exchange research at HSBC Holdings Plc in Hong Kong, wrote in a note on Tuesday. The long-term goal is for very few interventions, PBOC Deputy Governor Yi Gang said at a briefing, adding that bigger two-way fluctuations are normal.
"The PBOC should be reducing its currency intervention and the yuan is likely to decline on weak economic fundamentals in China," said Nathan Chow, a Hong Kong-based economist at DBS Group Holdings Ltd. "That said, China will have to strike a balance between letting the market play a bigger role and not allowing any major depreciation."
The International Monetary Fund's executive board on Monday decided the yuan meets the standard of being "freely usable" and will join the dollar, euro, pound and yen in the Special Drawing Rights. The addition will take effect on Oct. 1, 2016, with the yuan having a 10.92 percent weighting, the IMF said. The offshore yuan reversed losses on Monday on speculation China intervened to support its exchange rate.
Yuan Decline
The Chinese currency traded in Hong Kong fell 0.19 percent to 6.4448 a dollar as of 4:43 p.m. local time. The yuan in Shanghai was little changed and closed at 6.3986, China Foreign Exchange Trade System prices show. The central bank was suspected of intervening to bring the two rates closer together over the past few months, with the IMF saying in August that a wide gap means the overseas exchange rate can't be used as a perfect hedge for onshore exposure.
The yuan's 12-month non-deliverable forwards fell 0.4 percent to 6.6464, data compiled by Bloomberg show. The PBOC earlier weakened the onshore yuan's daily fixing by 0.02 percent to a three-month low of 6.3973.

A gauge of China's factory output slipped to the weakest level in more than three years in November. Six central bank interest-rate cuts in a year haven't been enough to spur a recovery as a property downturn and industrial overcapacity weigh on manufacturing.
Now that the SDR status is in hand, Chinese authorities are more likely to reduce intervention, according to Barclays Plc. The bank expects the yuan to weaken to 6.8 a dollar by mid-2016. That is more bearish than the median forecast of analysts surveyed by Bloomberg, which is for a decline to 6.5.
Yuan Gap
While the PBOC's yuan support will continue, the size and frequency of intervention will be lowered, said Charles Feng, Hong Kong-based head of foreign-exchange, rates and credit trading for Greater China at Standard Chartered Plc. The gap between the yuan's rates at home and abroad will diminish as October 2016 approaches, said Douglas Borthwick, head of foreign-exchange at New York brokerage Chapdelaine & Co.
China will continue with reforms to consolidate the yuan's role in the SDR, the PBOC's Yi said on Tuesday, adding that there's no need to worry about yuan depreciation. His comments reiterated the importance of the long-term goal of making the yuan more market-driven, said Ju Wang, senior Asian foreign-exchange analyst at HSBC Holdings Plc in Hong Kong.
IMF members will automatically hold about $30.6 billion of yuan positions given its weighting, China International Capital Corp. analysts Yu Xiangrong and Liang Hong wrote in a note on Tuesday. They expect the yuan's share of global foreign-exchange reserves to be at 7.8 percent by 2020.
— With assistance by Tian Chen, Lillian Chen, Ye Xie, Bonnie Cao, and Andrew Mayeda
Before it's here, it's on the Bloomberg Terminal.
LEARN MORE