Yellen to Peer Past December Rate Hike and Stress Gradual Pace
by and
Fed chair to headline busy week of Federal Reserve speakers

Economists, markets hope for post-liftoff policy guidance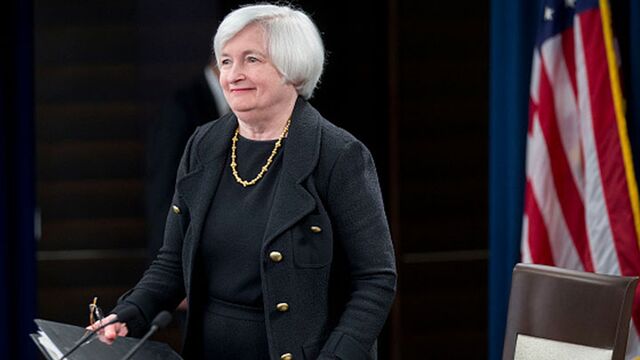 Janet Yellen will leave expectations for a December interest-rate rise in place when she speaks publicly twice this week while drawing attention to what will happen to policy after liftoff.
The Federal Reserve chair "will be focused on the idea that December seems likely, but let's get beyond the December hike and start talking about the pace" of rate increases that follow, said Tom Porcelli, chief U.S. economist at RBC Capital Markets LLC in New York.
Yellen will give her outlook for the economy on Wednesday in a speech to The Economic Club of Washington. The following day she's scheduled to testify before Congress's Joint Economic Committee, an annual appearance on Capitol Hill, where she'll deliver a statement and answer questions from lawmakers.
Yellen's remarks will punctuate a week in which Fed policy makers have planned at least 12 public appearances, ushering financial markets toward the Dec. 15-16 session of the Federal Open Market Committee. The FOMC is widely expected to lift the benchmark federal funds target range above its near-zero setting, where it's been held since December 2008, acknowledging declines in the level of U.S. unemployment and confidence among committee members that inflation will head back toward their 2 percent goal.

Economists and investors said they'll be listening for additional clues about what will drive post-liftoff policy decisions, as well as for Yellen's thoughts on risks to her economic outlook, including a steadily strengthening dollar and the divergence between monetary policies in the U.S. and other major economies.
Fed officials have emphasized they plan to tighten policy "gradually" after liftoff, in line with their expectations for further improvement in the economy, and that such moves will be data dependent. That raises questions that economists hope Yellen will address.
"What do they mean by data-dependency? What kind of guideposts will they be looking for in determining the subsequent hikes?" said Aneta Markowska, chief U.S. economist at Societe Generale SA in New York.
In recent months, the Fed has signaled that an initial hike hinged primarily on lowering unemployment, which is part of its dual mandate from Congress to seek stable prices and maximum employment. 
With the U.S. jobless rate now at 5 percent, which lies at or very close to most policy makers' estimates of full employment, the trigger for rate rises may shift to progress on inflation, said Alan Levenson, chief economist at investment manager T. Rowe Price Group Inc. in Baltimore.
"The closer we get to Dec. 16 the more important it will be to convey the message that while cumulative progress toward full employment has been the driver of this initial move, thereafter progress on the inflation side of the mandate is going to be more important," Levenson said.
Joseph Davis, chief economist at Vanguard Group Inc., the world's biggest mutual fund manager, said he expects Yellen will be quizzed by lawmakers on how the U.S. economy may be held back by slowing global growth, especially in China.
"What, exactly, about weakening international conditions concerns them most," Davis said. "What are their economic expectations, their forecast for growth outside the U.S.?"
U.S. exports represent 13 percent of gross domestic product, up from 9.6 percent the last time the Fed began a tightening cycle in June 2004, making the domestic economy more dependent on global conditions.
"International developments are going to be of out-sized importance compared to past cycles," Levenson said.
Connected to that, Yellen may address how the Fed will manage the impact of moving in the opposite direction to the world's other major central banks. The European Central Bank, Bank of Japan and People's Bank of China are all still easing policy.

That will spur capital to flow to higher-yielding, dollar-denominated assets, causing the dollar to strengthen, which hurts U.S. exports and suppresses inflation. The dollar has already gained 9.2 percent this year against a basket of 10 leading global currencies.
"To date the dollar's strength is a reflection of relative strength, but there's a clear point, maybe another 10 percent, that there's a self-limiting rise," Davis said, referring to the drag from greenback appreciation.
For now, Yellen can still put a positive spin on the picture, said Joseph Lavorgna, chief U.S. economist at Deutsche Bank Securities Inc. in New York.
"She's going to get a chance to say the U.S. is embarking on a course different from other central banks because the U.S. is the first to come out of the downturn," he said. "She'll couch in a somewhat upbeat message, that divergence is part of the natural order of things."
Other Fed speakers this week include Vice Chairman Stanley Fischer, who will address a conference on financial stability in Washington on Thursday. Fed Board Governor Lael Brainard is set to speak Tuesday evening at Stanford University's Institute for Economic Policy Research.
Before it's here, it's on the Bloomberg Terminal.
LEARN MORE