Xi in Africa as Continent Feels Most Pain From China Trade Slump
Bloomberg News
Bright spots include China's imports of South African wine

China to shift industries to Africa to help it industrialize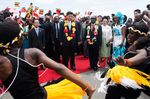 President Xi Jinping's five-day trip to Africa comes as the continent suffers more than anywhere else from China's slowing economic growth and an associated rout in the value of the region's commodities exports.
Trade between the two slumped 18 percent in the first nine months of 2015 from a year earlier, the largest decline in China's trade with the world's continents, according to China's commerce ministry.

Xi arrived Tuesday in Zimbabwe, where he'll meet President Robert Mugabe, before traveling to South Africa to co-chair a two-day summit in Johannesburg between China and African nations. He also will meet South Africa President Jacob Zuma.
China-Africa trade is under pressure, but that's a temporary phenomenon induced by plunging commodity prices, China's Vice Commerce Minister Qian Keming said at a press briefing last week. The quantity of products including crude oil, manganese, copper, cobalt ore and other energy and resource products that China imports from Africa hasn't declined, he said. Sino-Africa imports and exports totaled $222 billion last year.
The Republic of Congo, Angola and Mauritania are African nations most exposed to China's slowdown because almost half of their exports go to the Asian nation, according to data from the International Monetary Fund. Oil accounts for the bulk of exports from Congo and Angola, while iron ore makes up more than 40 percent of Mauritania's exports.

There were some bright spots. Oranges imported from Africa surged 309 percent, South African wine shipments jumped 84 percent and coffee from Kenya rose 30 percent in the first nine months, Qian said.
China's exports to Africa have done better. Africa has become China's second-biggest overseas market for contracted engineering services, Qian said. The trade deficit Africa has with China is a problem and the nation will try to import as much as possible to improve the balance, Qian said.

China also plans to expand investment in Africa and will move manufacturing industries there to help the continent industrialize. The stock of China's direct investment in Africa reached $32.4 billion at the end of last year after growing at an annual rate exceeding 30 percent for the past 15 years, Qian said.
"We're still confident about China-Africa trade" because of positive developments in Africa including its growing population and abundant resources, Qian said.
While on his African trip, Xi is also expected to showcase China's expanding role as a protector of regional security. China has pledged $100 million of military aid for the African Union, sent an infantry battalion to support peacekeeping efforts in South Sudan and deployed frigates to fight piracy off the Somali coast, leading the country to consider building its first overseas naval resupply station in Djibouti.
— With assistance by Xiaoqing Pi, and Kevin Hamlin
Before it's here, it's on the Bloomberg Terminal.
LEARN MORE