Watchdog Casts Doubt on Trudeau's 2019 Balanced-Budget Pledge
Josh Wingrove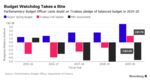 Prime Minister Justin Trudeau's pledge of a balanced budget by the next election is overly optimistic, with his government on pace to record at least four consecutive deficits, Canada's budget watchdog said.
The Parliamentary Budget Officer painted a different picture of Canada's fiscal outlook than that of the finance department -- forecasting, for instance, slower economic growth, lower crude prices and lower tax revenues.
In figures released Tuesday, the PBO projects a C$1.2 billion ($900 million) surplus in fiscal 2015, the last year under the helm of former Prime Minister Stephen Harper. In its Nov. 20 update, however, Trudeau's government projected a deficit of C$3 billion.
For Trudeau's first three full years in power, the PBO projects C$12.7 billion in cumulative deficits compared to C$7.7 billion projected by Finance Canada.
In an e-mailed statement Tuesday afternoon, Finance Minister Bill Morneau stood by his numbers. The November update "provided a realistic and sound assessment of Canada's economic and fiscal position," he said.
Trudeau campaigned on a return to balance by fiscal 2019, when Canada's next federal election is scheduled. Finance Canada projected a C$1.7 billion surplus that year, but the PBO projects a C$4.6 billion deficit.
'Optimistic Outlook'
The difference in projections "stems from the government's more optimistic outlook" for revenues from personal income tax, corporate taxes and sales taxes, the budget watchdog said in its report Tuesday.
The PBO also projects slower economic growth, forecasting real gross domestic product growth to average 1.8 percent over the next six years, with Finance Canada expecting an average of
1.9 percent growth over that period.
Canada's budget watchdog is also anticipating lower crude prices as the economy continues to struggle with the oil-price shock. The PBO projected West Texas Intermediate prices to average $53 per barrel over five years beginning in 2015, whereas Finance Canada projects an average prices of $61 over that period.
Before it's here, it's on the Bloomberg Terminal.
LEARN MORE