business
Volkswagen of America November Vehicle Sales Down 24.7%
David Welch and Dana Hull
For the first time, Volkswagen AG U.S. sales were hit hard by the company's diesel-emissions scandal as dealers labored for most of the month with relatively few cars on their lots that they could sell.
VW's namesake brand saw deliveries decline by 25 percent in large part because the company couldn't sell any diesel-powered cars. The company admitted in September that it used software in its cars with small diesel engines to cheat on U.S. emissions tests and stopped selling those cars. Last month, the company stopped delivering models with 6-cylinder diesel engines, including the Porsche Cayenne, after allegations that they also used so-called defeat devices.
Watch Next: The Long Rise and Rapid Fall of Volkswagen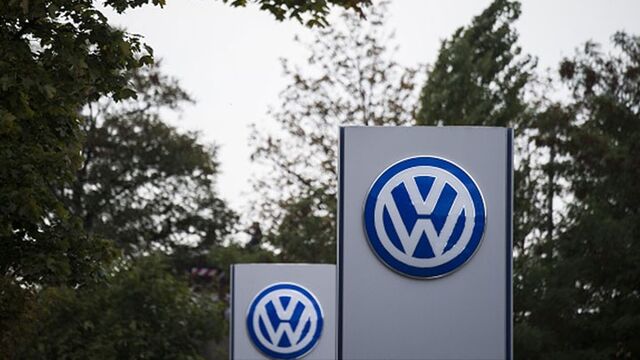 November is the first month that the scandal has seriously hurt U.S. sales for the German carmaker, which used rebates and cheap lease deals to generate a 0.2 percent sales increase in October.
Standard & Poor's Corp. downgraded Volkswagen one step to BBB+ from A- Tuesday. The rating remains three levels above non-investment grade.
"We see a tarnished reputation and brand image, reduced business prospects, a more challenging competitive position, substantial costs, and weaker leverage metrics," S&P wrote in a statement.
Volkswagen's American depositary receipts fell 1 percent to $29.49. They have tumbled 32 percent this year through Tuesday.
Gas-Burning Cars
The automaker is trying to boost production of the gasoline-powered cars that it is allowed to sell, but it didn't increase shipments to dealers until the middle of the month.
"I had more cars that I can't sell parked in the back lot than I had in the front lot for sale," said Alan Brown, who co-owns two VW dealerships in the Dallas area and is chairman of the brand's U.S. dealer council. "The factory is still trying to reset production to gasoline cars and that can take three or four months to get inventory in."
Brown said he started the month at one of his stores with just 38 salable new cars on the lot, about a third of what he would like. VW got more cars to dealers about Nov. 18, but it takes at least a week to prepare the cars for sale and advertise them, he said. He now has 135 vehicles and thinks sales will return to normal levels this month.
Audi of America, a Volkswagen subsidiary that also has models affected by the emissions scandal, said its sales rose
0.4 percent to 16,700 for a record November in the U.S.
Combined, VW and Audi U.S. sales fell 16 percent from a year ago, a steeper drop than the average analyst estimate for a
5.9 percent decline.
Porsche sold 4,450 vehicles in November, down from 4,699 from November 2014.
Loyalty Tested
VW has loyal customers, said Karl Brauer, senior analyst with Kelley Blue Book Co., an automotive research firm in Irvine, California. But buyers may be staying away because they can't purchase the diesel cars that are core to its brand.
"Volkswagen was able to hold off a big decline in sales for a month or two by using discounts but it caught up to them," Brauer said. "Their sales fell 25 percent and diesel was usually that much of their sales."
It was the wrong month to run low on inventory. Some people may see the emissions crisis as the time to get a deal, but couldn't find what they wanted, said Jessica Caldwell, an analyst with automotive pricing website Edmunds.com. Others may be avoiding the brand until they see how the company responds to the problem.
Volkswagen submitted its recall plan for the 4-cylinder diesel models to the California Air Resources Board and federal regulators on Nov. 20. The company will have to come up with fixes that enable the diesel engines to meet clean-air rules before a nationwide recall is rolled out to affected consumers.
"What they can sell is very limited," Caldwell said. "There were also a lot of sales events from other carmakers going on."
(Updates with trading in the fifth paragraph.)
Before it's here, it's on the Bloomberg Terminal.
LEARN MORE