Puerto Rico Makes Bond Payments, But at What Cost to Residents?
by
Commonwealth gets breathing room as it faces January payments

Puerto Rico will claw back revenue pledged to other bonds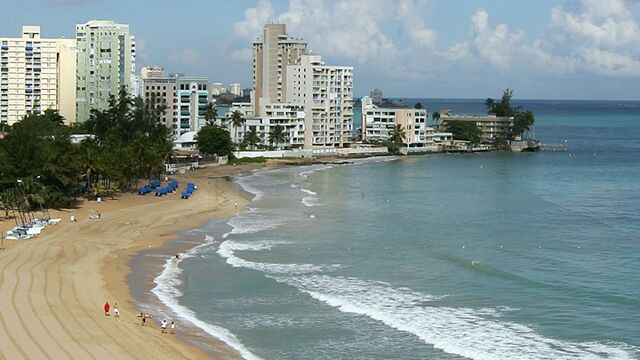 Puerto Rico made a crucial round of bond payments Tuesday, buying precious weeks to negotiate with its creditors over ways to reduce the island's crippling debt.
Underscoring the depths of the island's financial troubles, Governor Alejandro Garcia Padilla signed an executive order to use money earmarked for servicing the debts of several public corporations to pay interest and principal on $354 million in Government Development Bank bonds partially guaranteed by the commonwealth.
Puerto Rico now faces a Jan. 1 deadline to pay an additional $357 million of general-obligation interest as talks between the island and creditors drag on. Garcia Padilla unveiled the claw back on Tuesday during testimony at a U.S. Senate hearing where he said the island is running out of cash and will focus on providing essential services. Puerto Rico is seeking permission to use bankruptcy to reorganize its finances, an option for which the Republican-led committee showed little inclination in granting quickly.
"They've bought themselves time several times now, but they're trying to figure out this concept of consensual negotiations and see where they can go," said Peter Hayes, who oversees $111 billion as head of municipal debt at New York-based BlackRock Inc. "But the problem is they have increasing payments on Jan. 1. It remains to be seen how much time they can buy."
Guaranteed Debt
Even with the clawback, Puerto Rico may not be able to make all its payments, according a Nov. 6 financial filing.
"The commonwealth may not have sufficient funds to service all principal and interest on its general obligation debt without significantly curtailing government operations," according to the document.
Of the $354 million due Dec. 1, Puerto Rico guaranteed $267 million of the bonds. A missed payment on those securities would have been the first default on direct debt, sparking legal suits and upending negotiations with creditors. A Puerto Rico agency has skipped debt payments since August on bonds repaid through legislative appropriation.
The commonwealth said in the Nov. 6 financial filing that it may take revenue already used to repay Highways and Transportation Authority bonds, convention-center debt and Puerto Rico Infrastructure Financing Authority bonds for paying down general-obligation securities. Those authorities have approximately $7 billion of debt, Garcia Padilla said in his written testimony to the Senate committee.
Reflecting Expectations
Tax-exempt Highway bonds maturing July 2046 and subject to the clawback traded Wednesday at an average 13.6 cents on the dollar, the lowest since the securities were first sold in 2007 and down from 52.6 cents at the start of the year, data compiled by Bloomberg show. The average yield Wednesday was 36.8 percent.
"Those bonds in many ways have reflected the expectation that they would at some point in time have to claw back some of those revenues," Hayes said. "The longer term outcome for anybody who still owns those bonds certainly looks fairly grim."
Bondholders of certain highway bonds and other debt subject to the revenue redistribution don't have a lot of recourse because bond documents state that Puerto Rico can take those collections to repay general obligations, said Daniel Hanson, an analyst at Height Securities, a Washington-based broker dealer. Those investors will seek confirmation that the government did use the money for general obligations and not other expenses, Hanson said. Puerto Rico expects to redirect $329 million from the agencies between December through June, Victor Suarez, Secretary of State, told reporters Tuesday in San Juan.
"There's going to be a legal process here to validate that any claw back that has occurred is being used consistent with the payment of constitutional obligations," Hanson said.

The agencies still have reserve funds, which would help avoid missing near-term payments, Melba Acosta, president of the Government Development Bank, said during Tuesday's press conference. The highway authority faces a $106 million interest payment due Jan. 1 while the Infrastructure Finance Authority owes a $37.2 million in interest on that date.
"They have sufficient reserve funds to make the next debt payments," Acosta said.
Still, redirecting the revenue places highway authority bonds and Infrastructure Financing Authority debt at risk of repayment, Ted Hampton, an analyst in New York at Moody's Investors Service, wrote in a report Wednesday.
"Using the clawback for GO payments will increase the likelihood of near-term
defaults on securities that are vulnerable to it," Hampton wrote.
General obligations with an 8 percent coupon and maturing July 2035 traded Wednesday as high as 75.6 cents on the dollar, up from as high as 72.4 cents Monday, before the governor announced the clawback plan, data compiled by Bloomberg show. The bonds traded Wednesday at yields as low as 11.1 percent.
Senate Hearing
Lawmakers showed little indication that they will soon act to help Puerto Rico. Senator Chuck Grassley, the chairman of the judiciary committee, said the island's strains are the result of years of fiscal mismanagement that wouldn't be fixed with bankruptcy. He said no bill is imminent to assist Puerto Rico given that the commonwealth hasn't filed audited financial statements yet for fiscal 2014, which ended June 30, 2014.
A default on commonwealth-guaranteed debt could have prompted legal action by investors because those bonds are backed by Puerto Rico's promise to repay. Officials are negotiating with investors to reduce the island's debt load by accepting losses through a debt exchange or by delaying principal payments.
Puerto Rico and its agencies owe $957 million of interest on Jan. 1, including the $357 million on general obligations. Garcia Padilla's administration has said for months that paying for essential services and programs is the government's first priority. Officials have delayed tax rebates, suspended payments to suppliers and relied on intergovernmental borrowing to help maintain core services.
"It's all according to what he's got cash on hand," said Matt Dalton, chief executive officer of Rye Brook, New York-based Belle Haven Investments, which oversees $3.4 billion of munis, said about Garcia Padilla. "The pail is still leaking. By the time he runs to the next coupon payment that he needs to worry about, he may not have enough water left in that pail to put that fire out."
Before it's here, it's on the Bloomberg Terminal.
LEARN MORE