New Faces to Dominate BOK Board in Challenge to Forecasters
by
Four of seven members on BOK board are set to change in April

President Park has a chance to leave her mark on central bank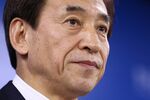 A majority of the Bank of Korea's seven-member board will be replaced in April, providing an opportunity for President Park Geun Hye's administration to further shape monetary policy at a time when U.S. interest rates are likely to be rising.
Park, who will have the final say on candidates recommended by government agencies and industry groups, has already put her stamp on the central bank's top job. In 2014, she chose as governor Lee Ju Yeol, a 35-year BOK veteran who is known to value stability inside the institution.
The appointment of four new members poses challenges for investors trying to anticipate policy changes, especially with economists divided on whether the central bank should ease further to support growth or remain on hold to reduce capital outflow risks. Under Governor Lee, the board has reduced the key interest rate four times, to a record low of 1.5 percent.
"Governments tend to prefer short-term stimulative policies, but there could be serious side effects if monetary policy is used for this purpose," said Ahn Dong Hyun, a professor of economics at Seoul National University. "The BOK board should be composed of people who are independent from the administration, and there should also be a balance in the number of so-called hawks and doves."

There's expected to be no shortage of candidates, as the job pays about $230,000 a year and is considered a plum post. Underscoring the prestige and appeal of becoming a BOK board member, local media in Seoul joke that the queue of willing candidates outside the bank's entrance would stretch for 100 meters.
Terms for board members Ha Sung Keun, Chung Hae Bang, Chung Soon Won and Moon Woo Sik will end April 2016. Governor Lee, whose term ends March 2018, will remain along with two other members who were appointed by Park: Senior Deputy Governor Jang Byung Wha and Hahm Joon Ho. 
While BOK members are eligible to serve a second term, none has done so since the position became full time in 1998. The members will be recommended by the finance ministry, financial regulator, central bank, banking and industrial associations, and need the president's seal of approval.
Seeking Stability
Lee, who left the BOK in 2012 before being called back by Park last year, said in his farewell speech that rejecting old values had led to a sense of chaos at the central bank.
On his return in 2014, he said that with regard to human resources management "the most important criteria should be performance and reputation built up over a long period of time." Lee said that "while seeking the stability of our organization based upon this principle, I will also pursue diversity and openness."
Lee's predecessor, Kim Choong Soo, ended traditions like promotion by tenure and offering greater weight to graduates from elite universities such as Seoul National and Yonsei. He also placed emphasis on staff getting international experience and sought to raise the BOK's profile on the global stage.
Rare Case
In the past, only two or three board members have been replaced simultaneously and previous members remained as the majority. The larger changeover brewing for next year has come about partly because one seat was vacant for two years.
"The majority of the board being replaced at once is a rare case among global central banks and can raise uncertainty for market investors, especially if the appointment is postponed to the last minute," said Kim Jin Ill, a Seoul-based professor of economics at Korea University and a former economist at the Federal Reserve.
While board members seldom express strong views in public, central bank watchers learn their policy stances through minutes of BOK board meetings that identify the dissenters by name.
According to minutes released Tuesday, a board member suggested that the number of rate-decision meetings be reduced from current twelve times a year because monthly gatherings make the market "too sensitive" to economic data.
Doves and Hawks
Moon Woo Sik, who was recommended for the board by former governor Kim, has opposed all four rate cuts since August 2014 and is regarded as the board's hawk. Ha Sung Keun, who joined the board upon a recommendation from the financial regulator and has called for rate cuts when the board decided to hold, is seen as a dove.
Of analysts surveyed by Bloomberg in November, seven forecast that the BOK would pursue more rate cuts within the first half of 2016, while 13 predicted the main interest rate would stay at 1.5 percent. Three expected an increase to 1.75 percent.
"The board change could make monetary policy less predictable as the members' stances remain unknown for the first few months," said Kang Myung Hun, a professor of economics at Dankook University in Seoul and a former BOK board member. "Korea will be facing a dilemma as the Fed's interest rate increase will come when countries like Japan and China continue their easing stance."
Before it's here, it's on the Bloomberg Terminal.
LEARN MORE