U.S. Stocks Sink as Oil Breaks $40; Treasuries Drop on Rate Bets
by and
Energy shares drive losses ahead of Friday's OPEC meeting

Yellen speech, ADP data begin crucial three days for markets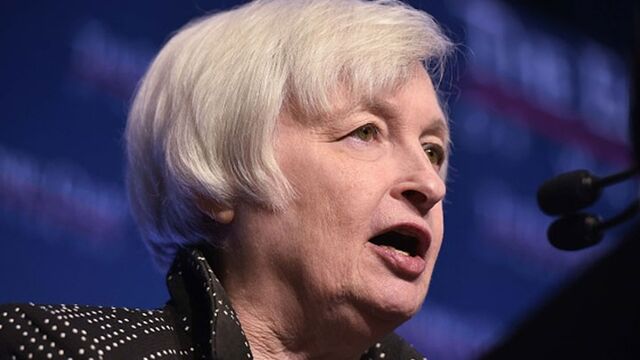 U.S. stocks slipped as crude plunged past $40 a barrel, sparking a slide in energy producers. Treasuries fell after Federal Reserve Chair Janet Yellen signaled increasing confidence in the economy two weeks before central bank officials meet to review policy.
The Standard & Poor's 500 Index extended losses in afternoon trading as the selloff in oil accelerated before a meeting of OPEC members Friday. Yields on 10-year Treasury notes rose the most in almost a month, while the dollar hovered near its strongest level in a decade as Yellen's remarks laid the groundwork for the first rate rise since 2006.

As three days of economic events likely to set the course for global markets into 2016 kicked off, the renewed slump in crude oil distracted traders from their focus on the looming divergence in monetary policy, with the Organization of Petroleum Exporting Countries having shown few signs it will vote to trim output. Yellen is increasingly confident the U.S. economy is growing, intensifying speculation that the Fed will tighten policy just as the European Central Bank seems poised to expand stimulus. Investors are awaiting Friday's jobs report, the last major U.S. data before the Fed meets Dec. 16.
"Yellen's remarks appear to be reinforcing market expectations of liftoff," said Alan Gayle, senior strategist for Atlanta-based Ridgeworth Investments, which has about $42.5 billion in assets. "The Fed's actions combined with the ECB is already taking the the dollar higher, and it's taking it higher today. This will weigh on the large-cap space."
The S&P 500 lost 1.1 percent to 2,079.51 by 4 p.m. in New York, its steepest one-day loss since Nov. 13. Yields on the 10-year Treasury note climbed four basis points, or 0.04 percentage point, to 2.18 percent, their first advance since Nov. 20. The euro weakened 0.2 percent as tepid inflation data boosted the argument for extra stimulus. West Texas Intermediate crude futures tumbled 4.5 percent to settle at $39.94 a barrel.
Stocks
The S&P 500 retreated after rebounding the most in almost two weeks on Tuesday, when it closed 1.3 percent below its record. The index is still up more than 11 percent from a low reached in August on growing confidence that the economy is sturdy enough to handle higher borrowing costs.
"Yellen didn't say anything miraculous that's pushing the market down, it's just that yesterday was a float up on air," said Yousef Abbasi, global market strategist at JonesTrading Institutional Services LLC in New York "There's a lack of leadership on a day like today, when you're not going to get it from commodities-linked equities like energy or materials."
Energy shares led declines with a 3.1 percent slide. Chevron Corp. and Exxon Mobil Corp. fell more than 2 percent. Technology shares erased earlier gains spurred by Qualcomm Inc. and Yahoo! Inc. Materials producers also slumped more than 1 percent.
European stocks closed little changed as the rout in commodities overshadowed optimism over the prospect of additional central-bank stimulus. The Stoxx Europe 600 Index slipped less than 0.1 percent to end near a three-month high. In Asia, equities fluctuated, with the MSCI Asia Pacific Index ending Wednesday down 0.2 percent as South Korean shares slumped.
Bonds
Yields on two-year Treasury notes jumped three basis points to 0.94 percent, with private U.S. jobs data pushing the rate on the policy-sensitive bond to near its highest level since 2010.
The report from the ADP Research Institute showed the U.S. added the most workers in five months in November, indicating non-farm payrolls data due Friday may be stronger than some analysts expect. The Fed is closely monitoring progress toward full employment in their decision-making over when to raise rates.
The jobs data signals that "we don't have to worry about the Fed getting off track" and leaving rates unchanged this month, said John Briggs, head of strategy for the Americas at RBS Securities Inc. in Stamford, Connecticut.
Market-implied odds of the Fed raising rates this month are hovering above 70 percent, data compiled by Bloomberg based on futures trading shows.
Euro-area bonds rose after the regional inflation data, with yields on Spanish and Finnish debt among those falling to records. Yields on Spain's two-year note dropped to as low as minus 0.05 percent, while Finland's touched minus 0.39 percent. The yield on 10-year German bunds, Europe's benchmark sovereign securities, was steady at 0.47 percent.
Currencies
The euro has weakened more than 12 percent against the dollar this year as the ECB implemented quantitative easing to stimulate the economy, while the Fed moved closer to boosting rates. It touched $1.0551 Wednesday, the weakest level since April 14.
Data Wednesday showed euro-area consumer price growth was unchanged in November, missing analyst forecasts. With ECB President Mario Draghi pledging to do what it takes to reignite inflation in the region's economy, analysts are predicting a bump up in stimulus Thursday, via a reduction in the deposit rate and an expansion in asset purchases.
"The ECB have clearly signaled they are not willing to tolerate further downside surprises to their inflation outlook going forward," said Lee Hardman, a London-based currency strategist at Bank of Tokyo-Mitsubishi UFJ Ltd. "Today's report solidifies expectations they will be easing policy aggressively."
The Bloomberg Dollar Spot Index, a gauge of the U.S. currency against 10 major peers, rose 0.2 percent after slipping 0.4 percent on Tuesday. The yen weakened 0.3 percent to 123.21 per dollar.
Commodities
Oil fell for the third time in four days as OPEC ministers arrived in Vienna for a production policy meeting. Prices briefly rose after the Iranian Oil Ministry's Shana news agency said a majority of OPEC members agree on an output cut, with the exception of Saudi Arabia and Persian Gulf Arab countries.
U.S. crude supplies rose to 489.4 million barrels last week, the most for this time of year since 1930, government data show. Saudi Arabia will consider all issues at the Friday gathering and listen to the concerns of other group members, Oil Minister Ali al-Naimi said.
Copper declined. The metal for three-month delivery slid 1.3 percent to $2.0440 a pound on the Comex, retracing most of an advance from the previous day.
The Bloomberg Commodity Index lost 1.7 percent Wednesday, returning to its lowest level since June 1999.
Emerging Markets
The MSCI Emerging Markets Index dropped 0.5 percent, after rising the most in almost two weeks on Tuesday. Benchmarks from India to South Africa declined.
The Russian ruble led losses among developing-nation currencies, retreating as oil fell. Egyptian equities jumped most in the world after the central bank repaid money owed to overseas investors.
The Shanghai Composite Index climbed 2.3 percent, the most in a month, after changing direction at least seven times in the morning before rallying in the last hour of trading. China's central bank stepped up cash injections via open-market operations on Tuesday as the resumption of new share sales drove demand for funds. Hong Kong's Hang Seng China Enterprises Index, a gauge of mainland Chinese shares listed in the city, increased 1 percent.
Before it's here, it's on the Bloomberg Terminal.
LEARN MORE