Miss World Contestant Barred From China Approached for TV Series
by
Canada's Anastasia Lin speaks in interview with Bloomberg

Falun Gong practioner to keep speaking out on human rights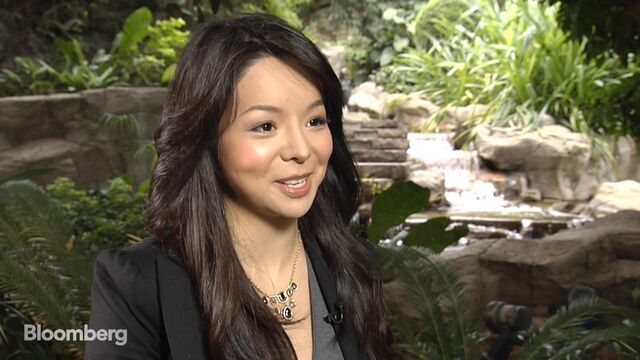 The Canadian Miss World contestant barred from entering China because of her political and religious views will head home from Hong Kong on Thursday, buoyed by the possibility of starring in a TV series about her life.
"I've been approached" to do a TV series, Anastasia Lin said after an interview with Bloomberg Television, without identifying the producer who asked her to play the role. The 25-year-old Chinese-Canadian said she'll continue to speak out against what she perceives to be human-rights abuses in China.
Lin is a self-proclaimed practitioner of Falun Gong, a spiritual practice banned in China. She's spent the past week in Hong Kong after being barred from boarding a flight to China's Hainan Island, where the final for the pageant will be held on Dec. 19. She said neither the Canadian government nor the competition organizers have tried to help her.
"None of them have said anything yet, which is a little bit worrying," Lin said in the TV interview. "If the situation continues like this, when we get to the Winter Olympic Games in the year 2022, do we have to start to self censor from now on just for our athletes to get into the game? That will be quite a troubling picture," she said referring to Beijing's hosting of the Games.
Lin, who was born in China and emigrated to Canada when she was 13, said she was concerned her father, who lives in China, was being pressured by the Chinese authorities. The actress told a U.S. congressional hearing in July that she had played a movie part of a Falun Gong practitioner who had been tortured. China carried out a nationwide crackdown on the spiritual movement in 1999, putting thousands of members behind bars.
'Hostile Forces'
"I practice Falun Gong," Lin said. "For me, it's a way of life."
An editorial in the state-run Global Times newspaper on Sunday said Lin was "misguided by her values" and must learn to be responsible for the possible consequences of her words.
"She may not know that all performers should avoid being involved in radical political issues in the globalized times," the paper wrote. "There are always a few people in the entertainment circle that make a name by playing political tricks. But there are principles to be upheld in any social sphere. Lin has to pay a cost for being tangled with hostile forces against China."
Lin said she was surprised that the Chinese government would go to the trouble to write an editorial attacking her. "That really shows a lot of insecurity," she said.
Before it's here, it's on the Bloomberg Terminal.
LEARN MORE