Macau November Casino Revenue Slumps 32.3% as China Curbs Hit VIP Gambling
by
Decline for 18th straight month, down 35% so far this year

City's economy secretary sees 2015 GDP falling more than 20%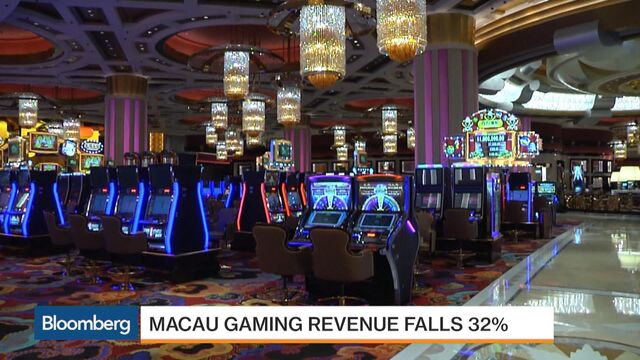 Macau's casino revenue fell for the 18th straight month in November, as China's moves to curb illicit money flows from the mainland deterred the high-stakes players who rely on junket promoters for betting loans.
Gross gaming revenue fell 32.3 percent to 16.4 billion patacas ($2.1 billion), according to data released by Macau's Gaming Inspection and Coordination Bureau. That compared with the median estimate of a 31.5 percent decline from six analysts surveyed by Bloomberg. Gaming revenue in the world's largest center of gambling has fallen 35.3 percent so far this year.
The worse-than-expected decline "shows that the ongoing pressure on the high roller business hasn't been offset by mass market stabilization," said Bloomberg Intelligence analyst Tim Craighead. If mass-market gambling doesn't progressively improve from now until the peak Lunar New Year holiday period in February, "it will be a bad time" for the industry, he said.
Macau's casino industry has been on a downward spiral since mid-2014, as China's slowing economy and its campaign against corruption scared off Chinese VIP players and hurt mass-market gambling. These high-stakes punters, typically measured via their favorite card game baccarat, have led the decline since the downturn started.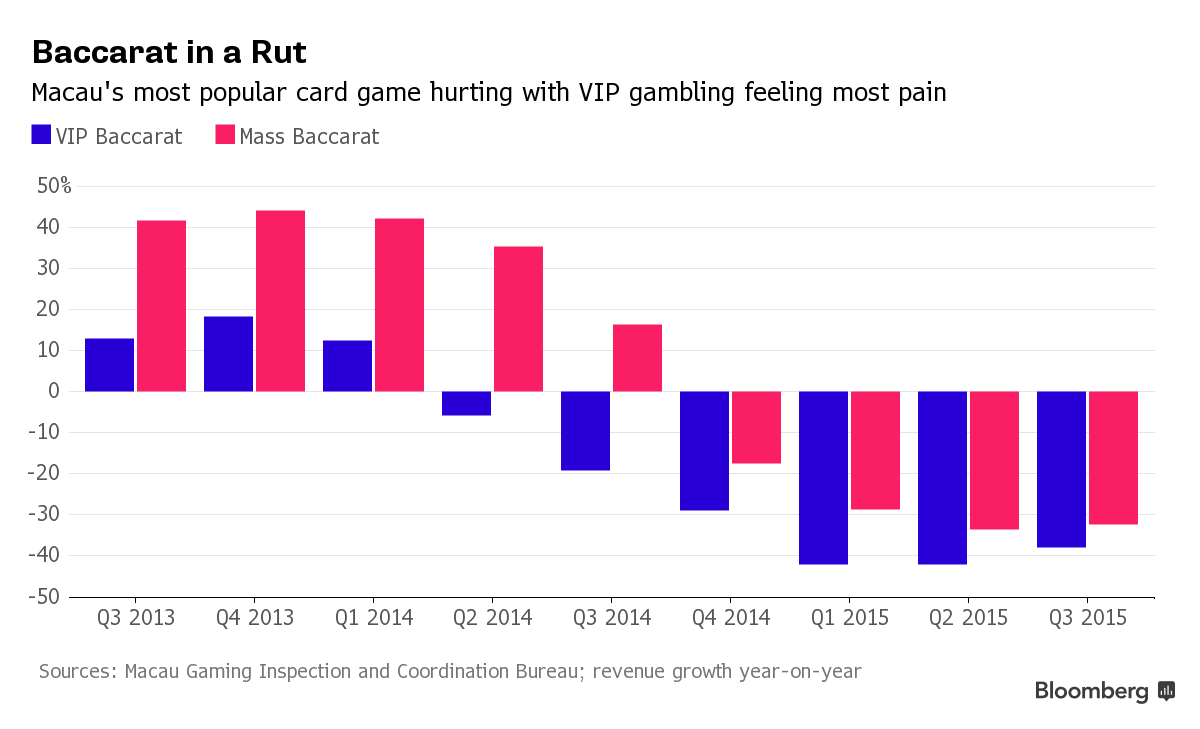 Macau, which relies on gamblers for about two-thirds of economic output, saw its economy shrink 24.2 percent in the three months through September. The Chinese city's GDP is expected to fall more than 20 percent this year, local broadcaster Teledifusão de Macau reported Tuesday, citing Secretary for Economy and Finance Lionel Leong.
Underground Banks
Casino shares rose in Hong Kong trading led by Sands China Ltd., which gained as much as 5 percent to HK$27.50, the highest since Nov. 18. Galaxy Entertainment Group Ltd. rose as much as 4.4 percent and Wynn Macau Ltd. advanced 2.6 percent. The Hang Seng Index was up 1.8 percent as of 3:49 p.m.
China's heightened oversight on its underground banking system "will likely continue generating headwinds for Macau's VIP business," Sanford C. Bernstein analyst Vitaly Umansky wrote in a note on Nov 24. This could cause consolidation in the junket industry to speed up further, creating volatility in VIP gaming, according to the note.
Macau's government last year tightened scrutiny of junkets, amid concerns some illegal funds are being taken out of the mainland into the territory through these gambling promoters. China said in November it cracked the nation's biggest "underground bank," which handled 410 billion yuan ($64 billion) of illegal foreign-exchange transactions, as the authorities try to rein in capital outflows that have hit records this year.
Delayed Bridge
The campaign to curb illicit outflows has stemmed liquidity among Macau's gambling agents "as junkets generally rely on the underground banking system to sidestep China's capital control rules and to transfer large sums of money across the border," according to Umansky.
Any recovery in Macau's gambling industry may also be damped by delays in the city's infrastructure building efforts, such as the completion of a bridge linking Hong Kong with Macau, and the city of Zhuhai on the mainland, part of which has been postponed by a year to end-2017.
The bridge's delayed completion "ties to our thesis of expecting a moderate mass gaming improvement in 2016," with any expected recovery further weighed down by China's continued slowdown and depreciating yuan, said Richard Huang, an analyst at Nomura Holdings Inc.
China unexpectedly devalued the yuan in August as it sought to boost economic growth. The weakened currency hurts Macau as it means converting yuan to the greenback-pegged Hong Kong dollar, the main currency used in the city's casinos, will cost gamblers more.
Before it's here, it's on the Bloomberg Terminal.
LEARN MORE